Christmas markets attract many travellers to Europe in winter, and the Christmas markets in Prague, the capital of the Czech Republic, are often mentioned as some of the best.
If you are around at the end of the year, you shouldn't miss this enchanting experience.
We have been living in Prague for many years, we have visited the local Christmas markets many times, and we still enjoy their festive atmosphere.
Prague is a beautiful city, but it becomes even more magical during the holiday season – especially if there is some snow!
This is all you need to know to make the most of the Christmas markets in Prague.
Where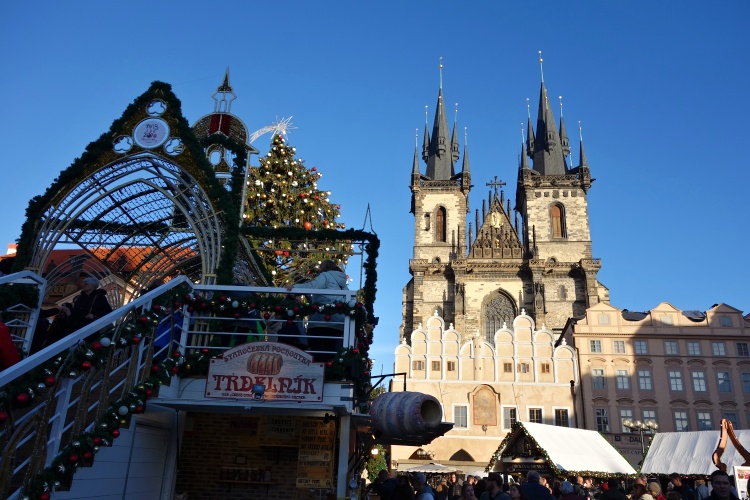 The Christmas markets (vanocni trhy in Czech) in Prague are spread all over the city, and you can find them in many squares and streets.
The most popular markets are located in the historic centre, which is relatively compact and flat, so it's easy to stroll from one market to another.
There is no need to use public transportation – it's quicker to walk than to take the metro or tram.
For example, it takes just a few minutes to walk from the market in Old Town Square to Wenceslas Square or Republic Square.
The most popular Christmas markets, which you shouldn't miss, are the following:
Old Town Square (Staromestske namesti) – one of the best Christmas markets in the world – don't miss the first ceremonial tree illumination
Wenceslas Square (Vaclavske namesti) – located in the heart of the city
Republic Square (Namesti Republiky) – in front of the Palladium Shopping Centre (one of the biggest shopping centres in the Czech Republic) and near the Old Customs House (Stara Celnice)
Prague Castle (Prazsky hrad) – great views of the city on the way up
But there are also many smaller local Christmas markets spread around the city that are great for a more authentic (and less touristy) experience, for example:
Peace Square (Namesti Miru) – usually the first market of the season, located in the Vinohrady district just off the 'Namesti Miru' metro station
George of Podebrady Square (Namesti Jiriho z Podebrad) – another market in the Vinohrady district, next to the 'Namesti Jiriho z Podebrad' metro station
Tyl's Square (Tylovo namesti) – a small market in the Vinohrady district, 'I. P. Pavlova' is the closest metro station
Andel – located just off the 'Andel' metro station, next to the Novy Smichov Shopping Centre (also one of the biggest shopping malls in the Czech Republic)
Christmas markets are very popular with locals and tourists, so they can get swamped – try to avoid weekends (especially in the evening) if possible.
When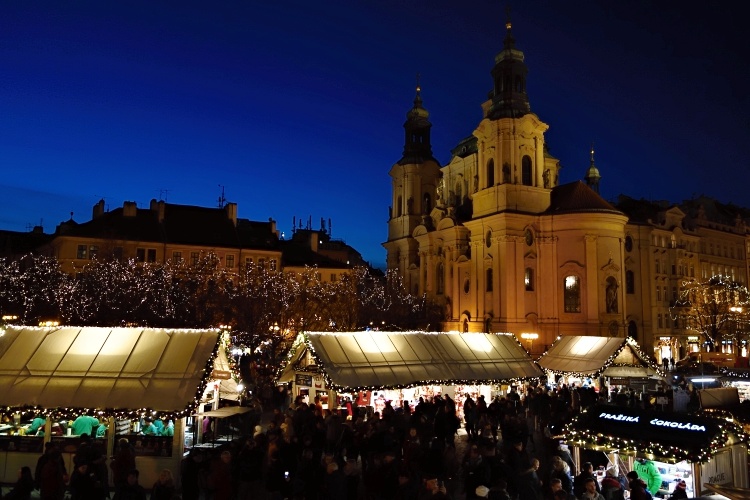 You can verify the market dates on the Prague Tourism website.
Even though the Christmas tree illumination on Old Town Square is planned for 2 December, some smaller markets start earlier.
It's cold in Prague in December (below zero degrees Celsius / 32 Fahrenheit), so dress accordingly.
If you avoid travelling during peak times at Christmas and New Year and travel before or after the holiday season instead, you can get some great flight deals.
Accommodation is also cheaper at this time of year as this is considered the low season (except for New Year's Eve), so the trip can be made on a low budget.
Most Christmas markets are open every day, even on Christmas Eve, Christmas Day and New Year's Day.
Size
Compared to the Christmas markets in other countries, especially in Germany, the markets in Prague are smaller, making them more charming and picturesque.
Good Value
The prices of merchandise, food and drinks at the Christmas markets in Prague are also lower than in Germany or Austria, which makes them a perfect place for buying original Christmas gifts or decorations.
Go to the smaller local markets out of the city centre for even lower prices.
Tradition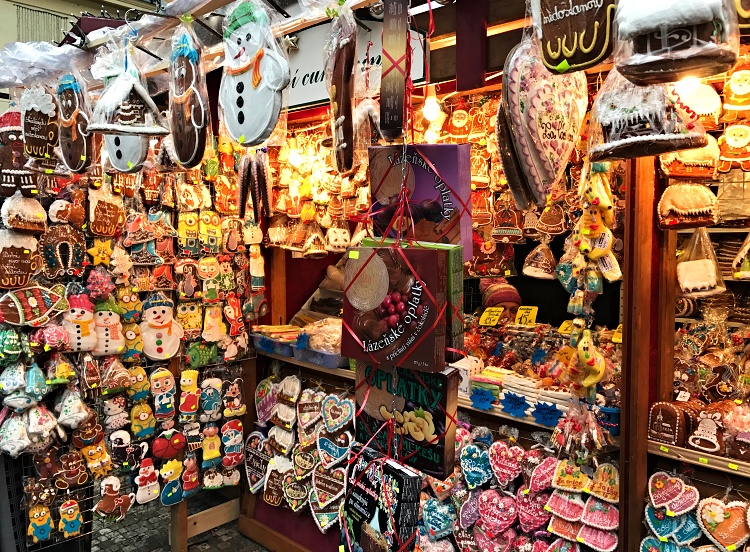 Christmas markets play an essential role in the Christmas traditions throughout the Czech Republic, so that you can find them in many cities around the country.
You can learn a lot about the local traditions there – how to prepare local food, how the typical Christmas decorations are made, or listen to Czech carols.
The Czech Christmas tradition is different from the one in Western Europe.
For Czechs, the most important day of Christmas is Christmas Eve (24th December), when we have a family dinner (fried carp with potato salad), and kids get their Christmas presents from Baby Jesus (not Santa Claus).
Shopping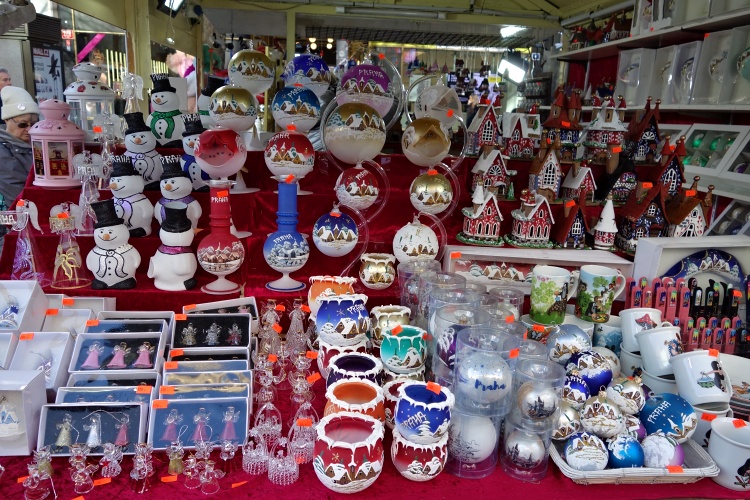 Typical Christmas markets consist of wooden stalls situated around a decorated Christmas tree, with a wide variety of local Christmas products (most of them handmade), traditional food and drinks on offer.
The most popular products are:
Christmas tree ornaments and decorations
Handicrafts
Jewellery
Glassware
Toys (especially puppets and wooden toys)
Winter accessories (hats, scarves, gloves)
Ceramics
Gingerbread
Candles
Bring some cash with you because some stalls might not accept credit cards, especially if they are just small vendors.
Supermarkets and other shops are closed from the afternoon of the 24th through the 25th of December, with most shops re-opening on the 26th for sales.
Food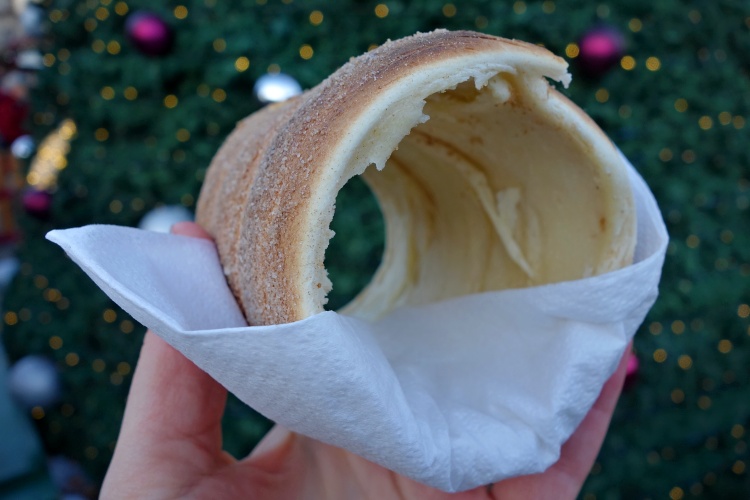 Traditional local food is a big part of the Christmas market experience.
Czechs love their Christmas cookies (cukrovi), and each family has their favourites – the smaller and prettier, the better.
Try the typical Czech Christmas braided cake (vanocka) – it's yummy.
While exploring the city centre, you will see the trdelnik shops everywhere – it's a sweet pastry made from rolled dough. This is wrapped around a metal stick (trdlo), then grilled over an open flame and sprinkled in sugar, cinnamon, or walnut mixture.
Even though it's presented as a typical Czech product, it is not; it's more of a product created for tourists. But it's lovely, so check it out.
Meat lovers should try roasted ham (sunka) or barbecued sausages (klobasa). They are usually served with a slice of bread and mustard.
Gingerbread (pernik) products are not only tasty but can also be a great gift.
Drinks
You may get freezing after being outside for a while, but many drinks can help you warm up.
Mulled wine (svarene vino or svarak), Christmas punch (punc) or mead (medovina) will soon get you into the festive mood, while well-known Czech beer (pivo) is a perfect accompaniment to any meal.
Entertainment
Many Christmas markets include a small stage where performances, especially concerts, occur.
You can usually see some craftsmen, mainly blacksmiths, in action and learn more about how various things are made.
Also, there might be a small animal stable so that children can stroke and feed a sheep, donkey or goat.
At Night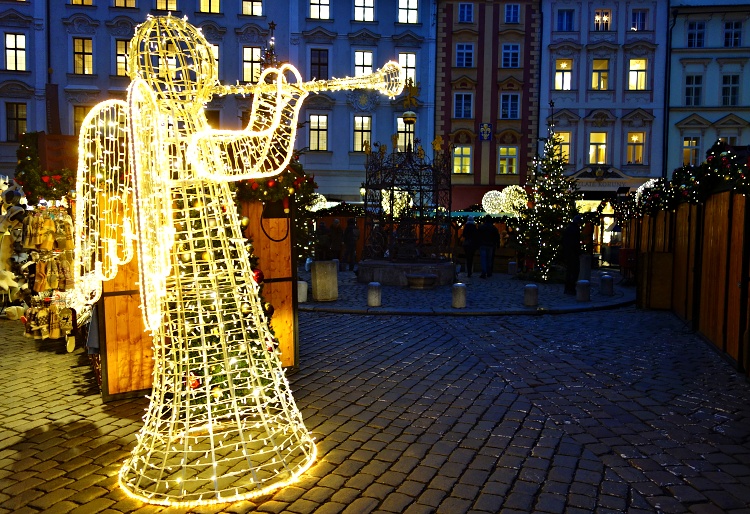 The festive atmosphere becomes even more special after the sun goes down and all the lights are turned on.
Walk around the Christmas markets and stroll to Charles Bridge for amazing views of Prague Castle.
There are always so many things to do in Prague – you can visit some of the many Advent concerts held in churches or other historical buildings.
You can also enjoy the winter atmosphere in one of the outdoor ice-skating rinks – try the one in the Fruit Market (Ovocny trh), located in the city's heart, or the one in Letna, which is the biggest ice-skating rink in the city.
Where to Stay
We recommend you stay in the historic city centre (Prague 1) close to the Christmas markets.
But if you find the area too busy or your budget is limited, it's a good idea to stay close to any metro station as the metro will get you to the city centre quickly and there are connections every few minutes.
Airbnb is another option for those looking for more authentic local accommodation.
Final Thoughts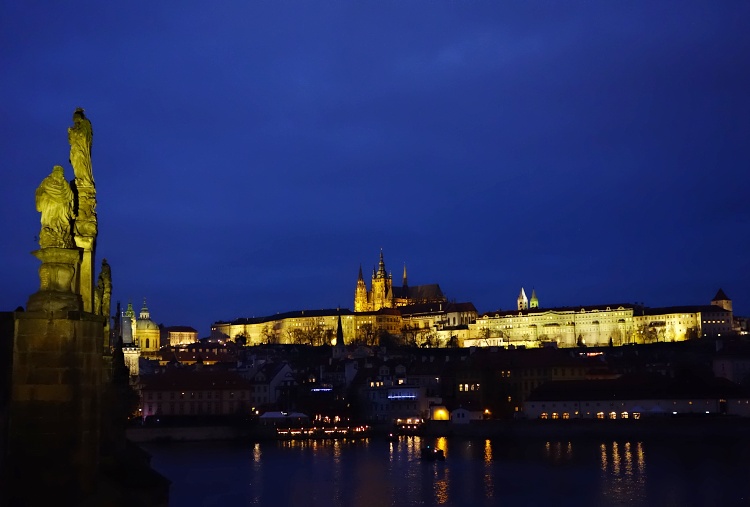 We hope that we showed you that the Christmas markets in Prague are worth visiting.
It's a great experience, and we can't wait for this year's markets.
If you like a festive atmosphere, you will find it in Prague in December – browse the charming Christmas markets, explore the stunning historic city centre, enjoy the Czech traditional food and drinks, and most importantly, slow down – it's Christmas time!
EXTRA TIP
We've teamed up with GPSmyCity so you can use this post on your trip.
This mobile app comes with a GPS map and works offline, so you don't need to worry about an internet connection or a data plan. 
You can download our guide, 'Christmas Markets in Prague, ' here.
Learn more about the Christmas markets in Prague in our Ultimate Guide.
Did you like this article? Please share it so that more people can experience this beautiful city.