No trip to Ireland is complete without visiting the vibrant capital, Dublin.
The good news is that the city centre can be easily explored in a day or two because it's relatively small.
We lived in Dublin for 12 years and got to know the city quite well.
These are our tips on how to make the most of your trip.
One-Day Itinerary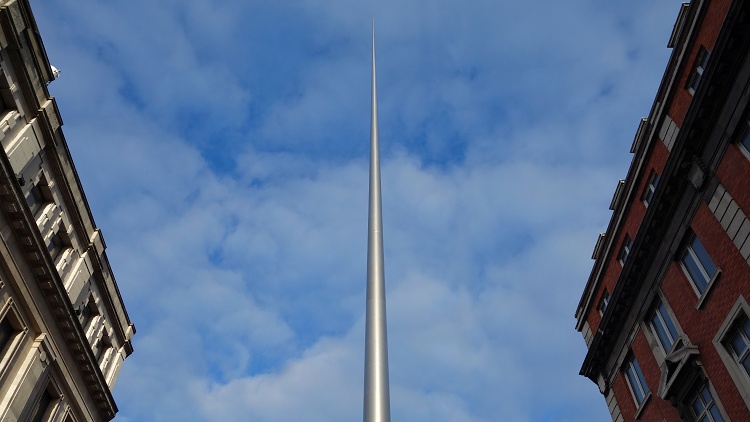 Start in O'Connell Street, which is dominated by the 121-metre (397 ft) tall structure called The Spire.
The General Post Office building (GPO), located in the middle of O'Connell Street, played an important role in Irish history.
Henry Street, situated between these two landmarks, is one of the main shopping streets in Dublin.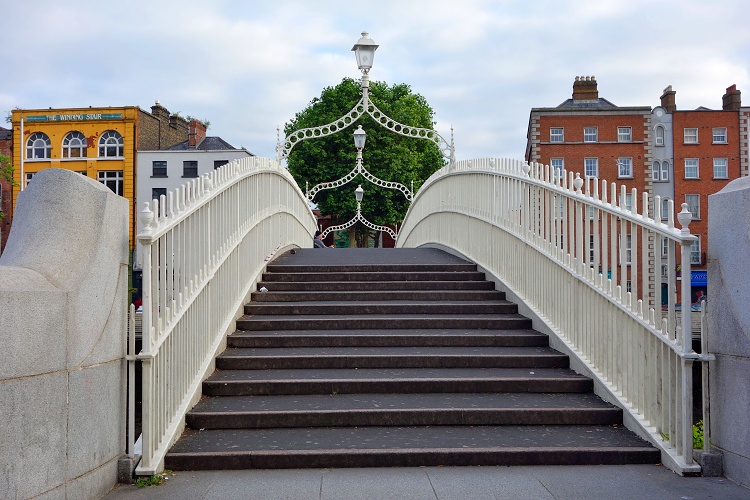 Head south and cross the river Liffey with its many bridges.
The Ha'penny Bridge is the prettiest and will lead you to the Temple Bar area, which is renowned for its busy nightlife.
Walk through the district till you reach Dame Street.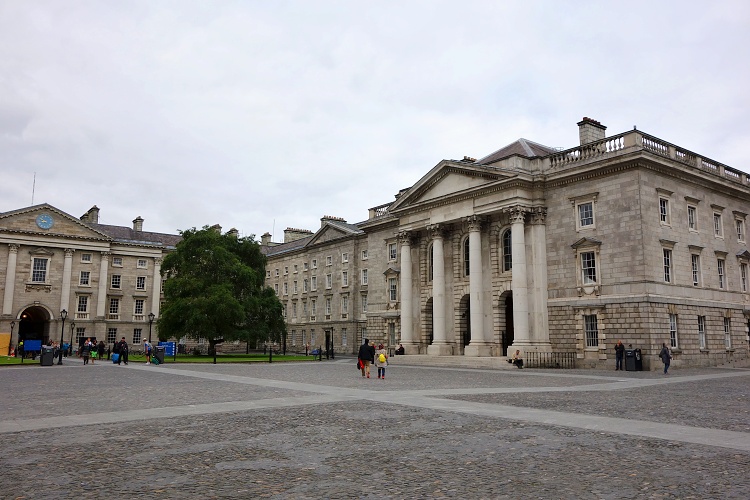 Turn left at Dame Street to get to the historical grounds of Trinity College.
Walk around on your own or take a tour to learn more.
Don't miss the stunning Old Library with the Book of Kells or the Science Gallery.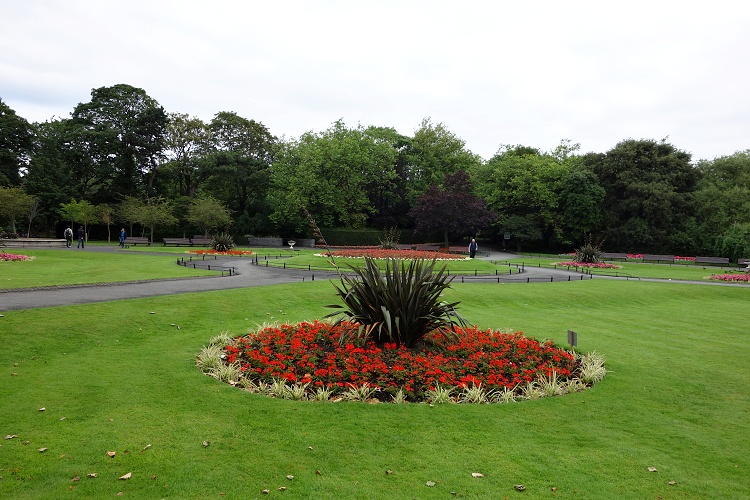 Walk to Grafton Street, which is a famous shopping street.
Continue straight ahead to get to St Stephen's Green park for a relaxing break (weather permitting).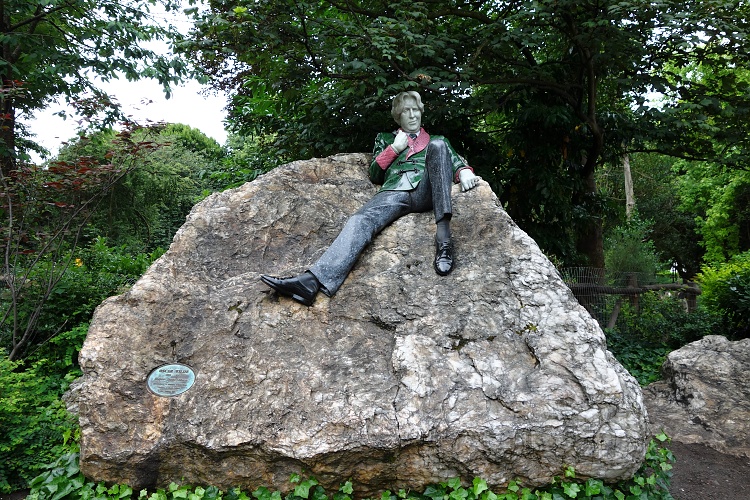 Keep going to Merrion Square with its pretty Georgian houses.
Don't miss the statue of the well-known Irish author Oscar Wilde which is located in the park.
Just off Merrion Square in Fitzwilliam Street Lower, look for Number Twenty Nine, a completely restored middle-class house of the late 18th century.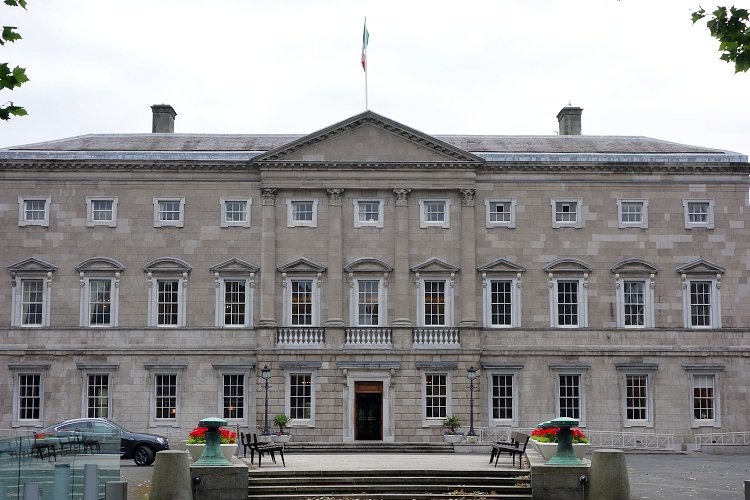 Start walking back and pass by Leinster House, home to the Irish parliament.
On either side of the main entrance to Leinster House, in Kildare Street, are the National Museum and the National Library.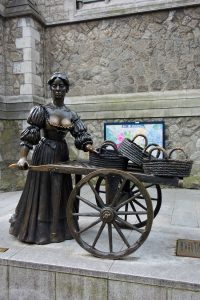 Don't forget to take a photo of the famous statue of Molly Malone.
Currently, it's located in front of the Tourist Information Office at the corner of Suffolk Street (just off Grafton Street).
Walk back to Dame Street, and behind the City Hall building, turn left to discover Dublin Castle.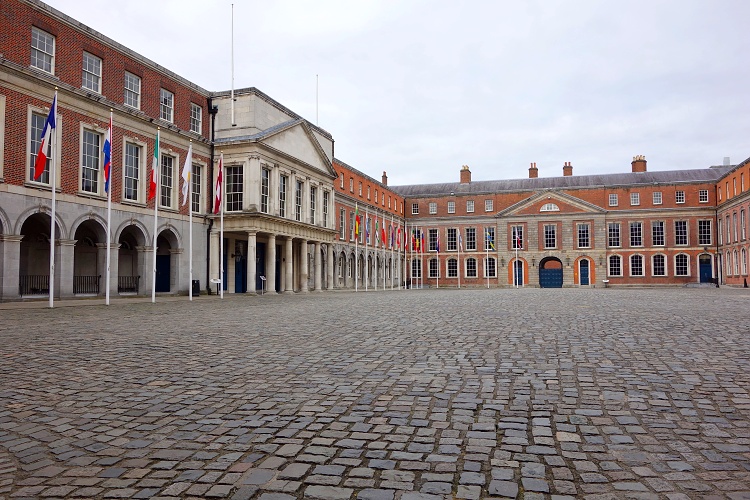 You can explore the castle grounds and the Chester Beatty Library for free.
You will need to join a tour to be able to access the State Apartments.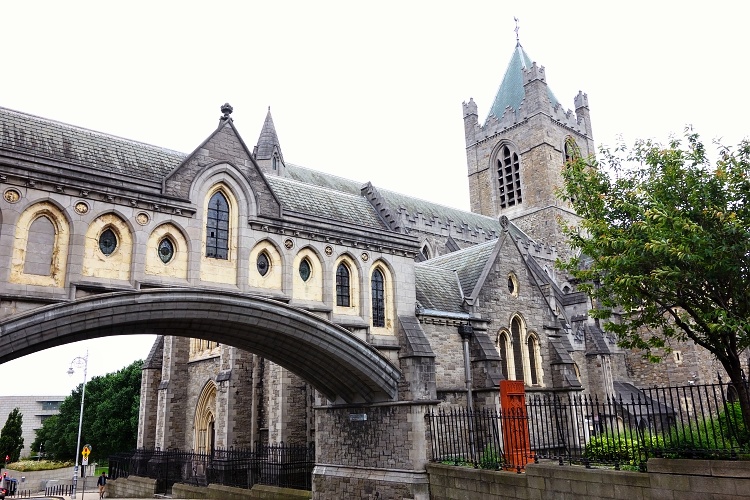 Keep following Dame Street, which becomes Lord Edward Street.
It will lead you to the stunning Christ Church Cathedral.
It's connected with Dublinia, an interactive museum where you can experience Viking and medieval Dublin.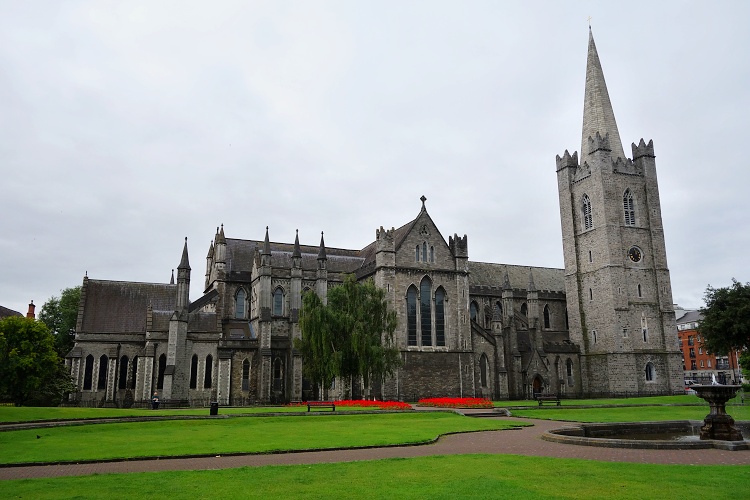 Get across the big junction and walk downhill towards Saint Patrick Cathedral, the largest cathedral in Ireland.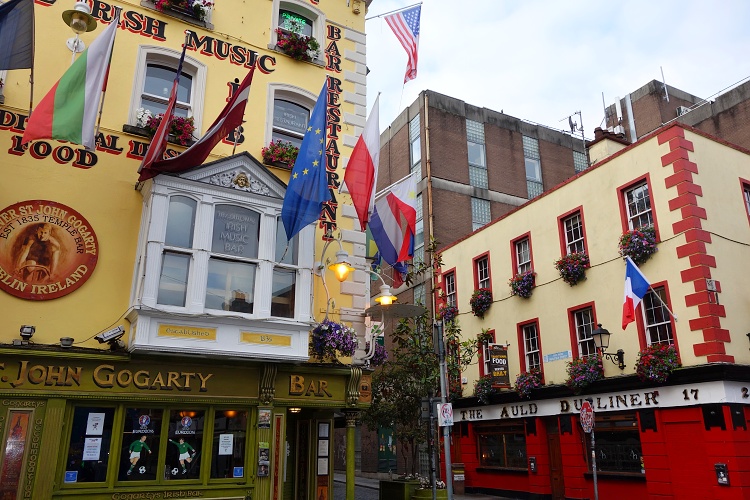 You have seen the most important landmarks of Dublin now, so you deserve a drink or two.
Come back to Temple Bar and explore its many pubs and restaurants till late at night.
Listening to Irish traditional music and having a pint of Guinness are the musts.
Extra Tip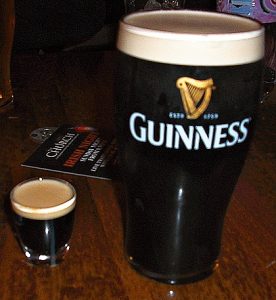 Don't stick just with Guinness. Try a Baby Guinness!
It's a shooter looking like a miniature pint of Guinness.
It's made of a coffee liqueur (Kahlua, Tia Maria, etc.) topped with an Irish cream (usually Baileys).
Yummy!
Getting There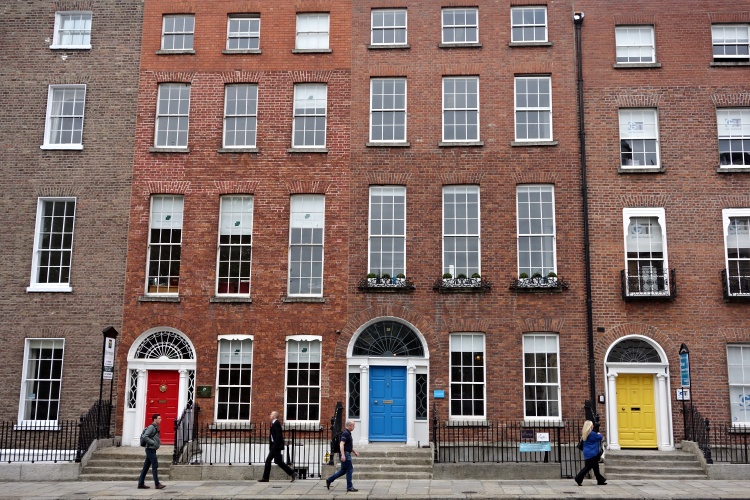 The most convenient way to get to Dublin is by air.
Dublin Airport (DUB) is well connected with direct scheduled flights from many destinations in Europe, North America, the Middle East and Africa.
Most flights are operated by Irish airlines Aer Lingus and Ryanair.
There are also direct ferry services from Britain and France.
There are no train or light-rail services from Dublin Airport, but several bus services connect the airport with the city.
Express buses (Aircoach and AirLink) are the fastest but the most expensive. You can buy your ticket from the driver.
A few Bus Eireann (countrywide) services also operate between Dublin Airport and Busaras – the central bus station in Dublin.
The cheapest bus connections are the Dublin Bus routes 16 and 41, but they can be slow.
When paying the driver, make sure you have the exact change (euro coins only).
Or, you can buy the ticket at the ticket machine.
If you plan to travel more, get a Leap Card to take advantage of cheaper fares.
It's an electronic purse that can be topped up and used on Dublin Bus services, LUAS (trams), DART (rail system in Dublin and surroundings), Commuter Rail and some selected buses.
The Leap Visitor Card is convenient for tourists, and it's valid for 1, 3 or 7 days.
You can also take a taxi. There is a taxi rank just outside the airport building.
If you are already on the island, you can use some of the bus or train services.
There are two main railway stations in Dublin – Heuston and Connolly.
The central bus station Busaras is located just next to Connolly train station.
If you prefer driving, there is a good network of highways connecting Dublin with the rest of the island.
Getting Around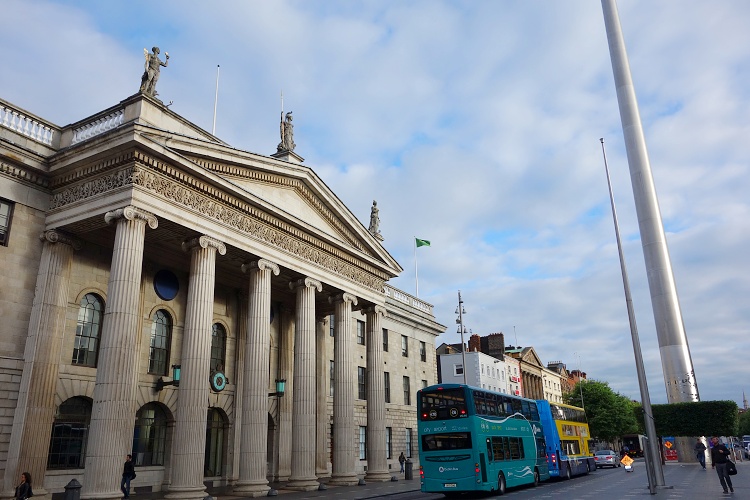 There is no subway in Dublin.
Buses represent the main part of the public transportation system.
This is one of the reasons the traffic in the city centre is heavy, and it's a good idea to avoid driving there.
The main challenges for visitors are many one-way streets, restricted turns and jaywalkers.
Parking is limited and expensive.
It's better to leave your car at your accommodation or on the city's outskirts.
Dublin Bus operates the typical double-decker buses.
If you are getting the ticket from the driver, you will need to have an exact change (euro coins only).
The bus system might be confusing for visitors.
Timetables usually mention only the times when the bus leaves the first stop. You need to calculate the approximate time of arrival at your location yourself.
The Dublin Bus app is handy for real-time bus arrival times, but it only works online.
It's the name of the final stop, displayed on the bus's front screen.
It's a common practice to wave at the driver for the approaching bus to stop.
Hop-on-hop-off buses also stop at most of the main tourist attractions.
LUAS is the tram system in Dublin – there are only two lines (red and green).
You can get the tickets at the machines located on the platforms.
The Dublin city centre is compact and flat, so the best way to explore it is on foot.
You can use the Dublinbikes scheme too.
There are also GoCity passes that include free entry to top attractions, monuments and museums, a free hop-on hop-off bus tour and more discounts and offers.
Bonus
We've teamed up with GPSmyCity so that you can use this 'One Day Only – Dublin' guide on your trip.
This mobile app comes with a GPS map, and it works offline, so you don't need to worry about an internet connection or a data plan.
You can download it here.
Are you thinking of visiting Dublin? Let us know if you have any questions!
Did you like the article? Please share it so that more people can find it helpful.