Greece is well-known as the ultimate summer beach destination, but this beautiful country is also great for city breaks all year round.
Athens, the capital of Greece, is a vibrant city full of history, amazing architecture, great people and delicious food.
It's a shame that Athens doesn't get as much attention as the other European capitals because it has so much to offer to its visitors.
The city might not have the best reputation, especially after the economic and political turmoil during the last few years.
We had no idea what to expect but we decided to stop there on the way back from the Greek islands.
We stayed in Athens for three nights, which was just perfect.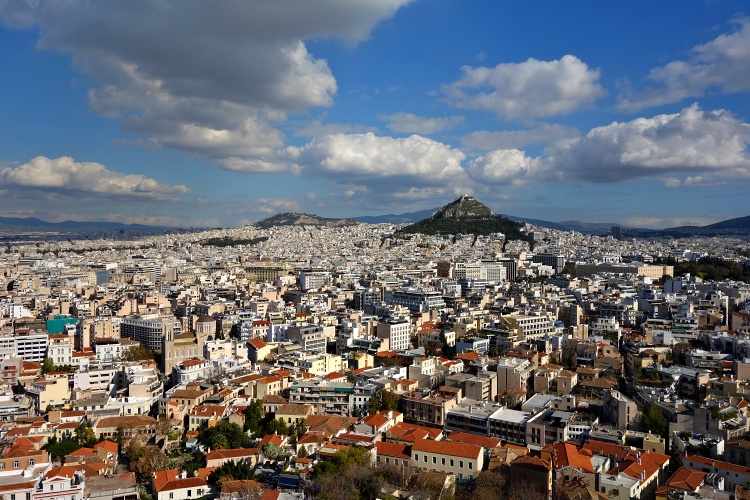 We were pleasantly surprised and so glad that we didn't skip this amazing city.
The local people were so friendly and we didn't have any issues at all.
It only shows how media, which usually focus only on the negatives, can influence us and create pessimistic assumptions about places.
However, many things in Athens have changed since the Olympic Games in 2004 – the infrastructure has been improved, many historic sites and buildings renovated, etc.
Athens is considered the birthplace of Western civilisation and there are many landmarks spread all over the city, especially in the historic centre.
We loved how lively the city centre became in the evening (particularly in the Monastiraki, Plaka and Psyri districts), the restaurants and bars were packed with people having a good time.
The best time to visit Athens is spring or autumn – the city isn't crowded with tourists as in summer and it's not as hot.
Be aware that some attractions might close earlier off-season so verify the opening hours before planning your itinerary.
We recommend spending at least two or three days in Athens, but if you are stopping only for one day, you can still see and experience a lot.
Just get ready for a very busy day and a lot of walking.
This is our recommended itinerary that will help you to see the most important sights and get the feel of this welcoming city in just one day.
Our One-Day Itinerary in Athens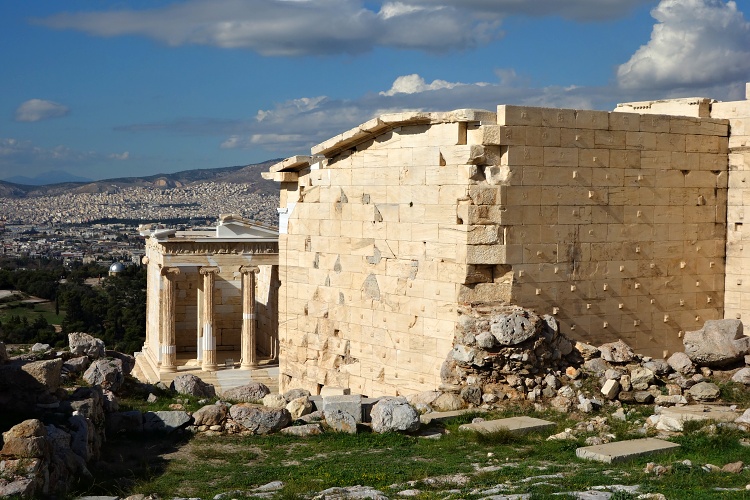 Athens is a large city but most landmarks are located within the historic centre, which can be explored on foot.
We picked only the most significant monuments to make the navigation easy, but you can explore more interesting sights, buildings and churches on the way.
There is so much to see in Athens so let's put first things first and start at the Acropolis.
Get there in the morning just after they open to avoid the crowds and the heat.
Verify the opening hours before you go because they might change.
You can either buy a single ticket or a five-day pass including entry to more ancient sites but there are a few free admission days every year.
There are two entrances to the Acropolis site – we suggest you start at the north entrance that is located near the Acropolis metro station to do a little less walking.
It's easy to navigate the site, just follow the path. Allow at least two hours for the visit.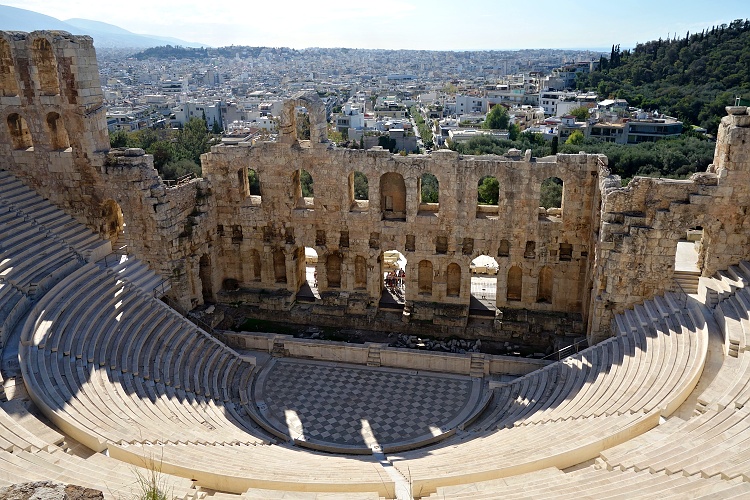 The path on the south slope will lead you to the Theatre of Dionysos, Asclepion and the stunning Odeon of Herodes Atticus.
Continue uphill to access the main Acropolis site located on the top of the plateaued rock.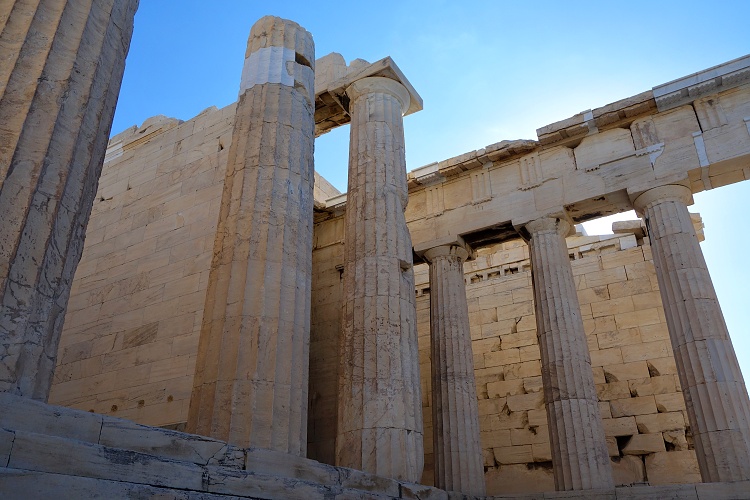 The Propylaia, with its incredibly high ceilings and columns, makes an impressive entrance.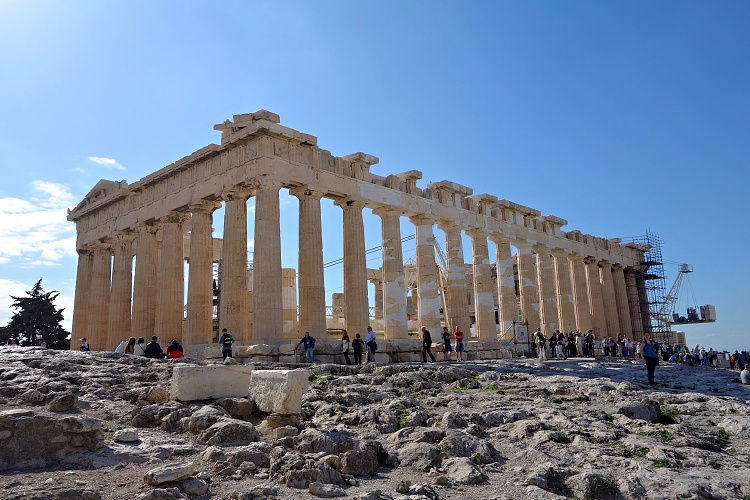 Follow the path and admire the monuments that are dominated by the majestic Parthenon.
The other major sights are the Temple of Athena Nike and the Erechtheion with the famous statues of the Caryatids (you can find the originals in the Acropolis Museum) and Athena's olive tree.
Come back to the Propylaia and walk downhill towards the main entrance.
After you exit the Acropolis site walk along the rock towards Areopagus Hill. 
You will get more amazing views of Athens and the Acropolis at the lookout.
Optional: Visit the Monument Filopappos on Filopappou Hill for even more views of the city and the Acropolis. It is a 15-minute walk from Areopagus Hill. Alternatively, you can come back for the sunset.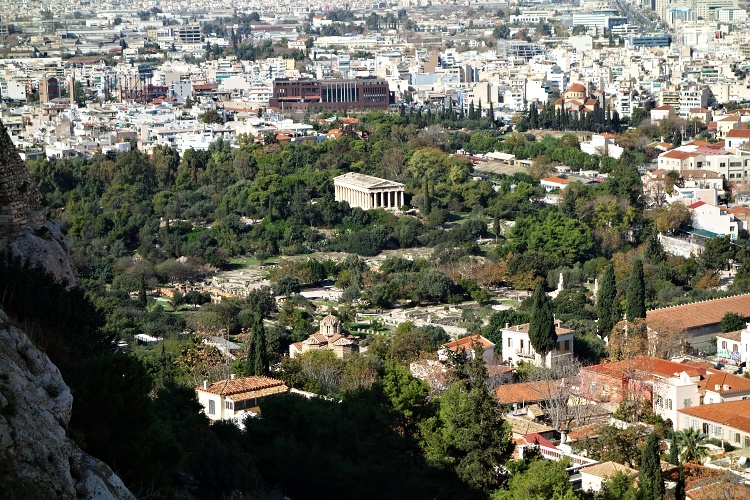 Descend the hill and follow Apostolou Pavlou Street to the Ancient Agora with the stunning Temple of Hephaestus.
Unfortunately, we weren't able to get in because we arrived late in the afternoon and the site had already been closed.
But it is on our list for the next trip, though!
Amble around the Flea Market to get to buzzing Monastiraki Square.
If you haven't eaten yet, drop into Kostas Souvlaki or Feyrouz for some great local street food.
You can find more details and also restaurant options in the Monastiraki area in the 'Where to Eat and Drink' section below.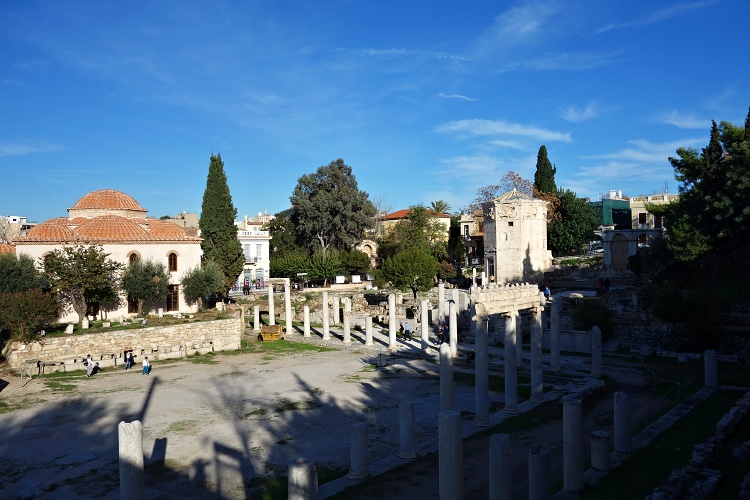 Take a short walk to the Roman Agora with its Tower of the Winds.
The site is much smaller than the Ancient Agora so you won't need to spend much time there.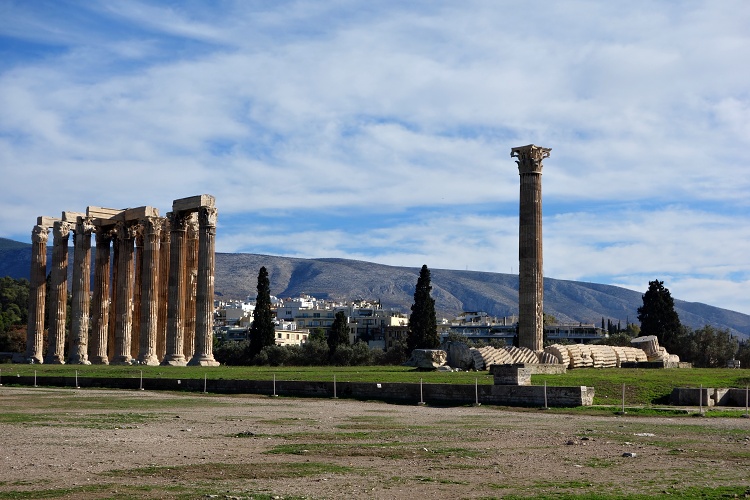 Continue walking across the lively Plaka district with the Acropolis on your right-hand side and if you fancy a snack, drop into Mikro Politiko for delicious kebab or falafel on the go.
Then keep walking to get to Hadrian's Arch and the monumental Temple of Olympian Zeus, which is the largest temple in Greece.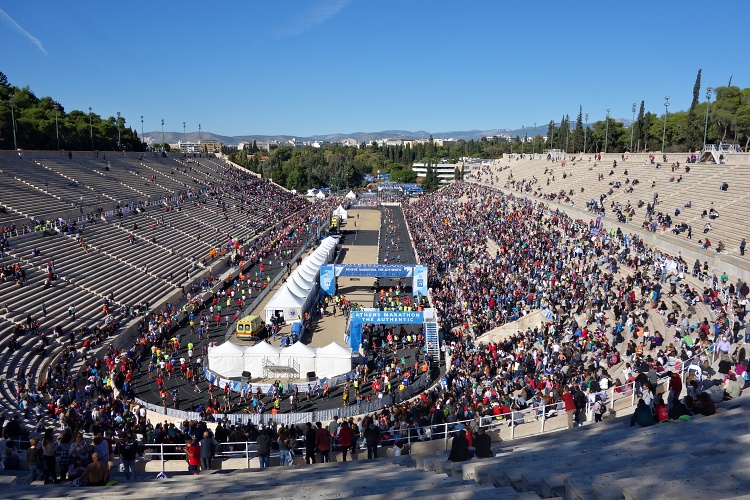 The Panathenaic Stadium is just a stone's thrown away now, it's where the first modern Olympics in 1896 were hosted.
The annual Athens Authentic Marathon, which starts in the city of Marathon, finishes here.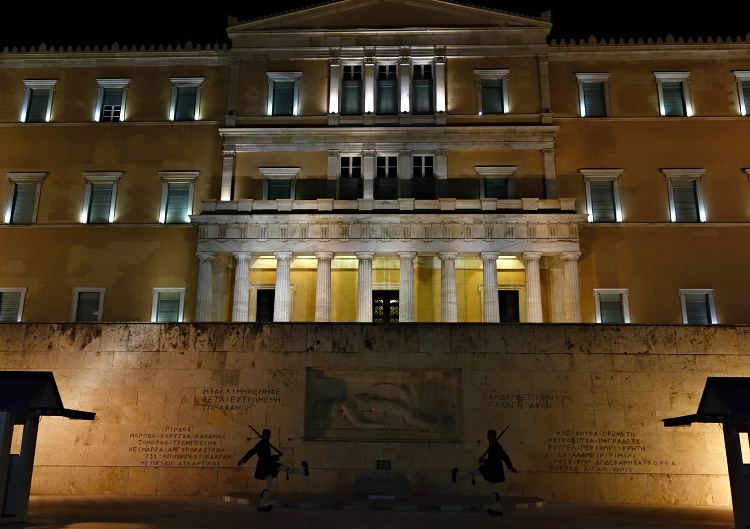 Now walk across the National Garden where you can take a break and cool down.
You will get to busy Syntagma Square where you shouldn't miss the hourly changing of the Evzoni Presidential Guard at the Parliament House.
It should be late afternoon and you have seen most of the significant landmarks in Athens.
Depending on your interests, energy and time you can consider one of the following options now.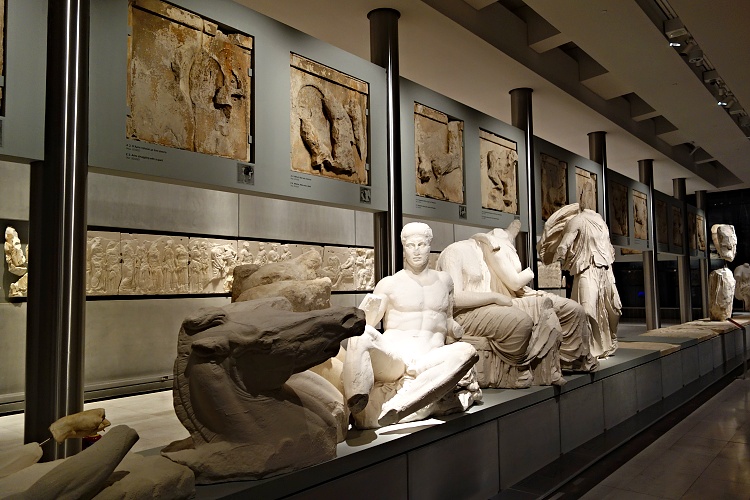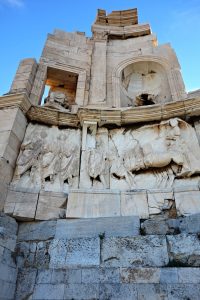 Optional: If you are interested in history and museums, don't miss the Acropolis Museum to see some amazing exhibits. The restaurant offers a great view of the Acropolis. You can either walk through the Plaka District or take the metro to the Acropolis station.
If you would like to see the sunset, head to the Filapappou Monument at Filopappou Hill if you hadn't been there yet (walk or take the metro to the Acropolis station). You can also consider Lycabettus Hill for more panoramic views (take the metro to the Evangelismos station, then you can climb up or take the funicular railway). 
If you are still looking for some souvenirs and gifts, Monastiraki Square and Pandrossou Street are perfect for last-minute shopping.
If all you can think of is sitting down and having something to eat or drink, keep reading…
Where to Eat and Drink
Plaka, Monastiraki or Psyri districts are the places to go. Start at lively Monastiraki Square and wander around the buzzing streets full of shops, restaurants and bars.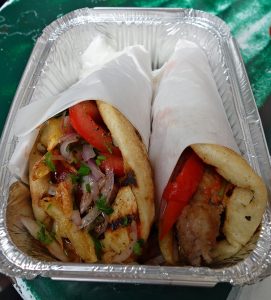 If you travel on a low budget, go for souvlaki (skewers), gyros or kebab served in pita bread.
Some of the following places had been recommended to us by our Airbnb hosts Nikos and Eleni who are regulars there.
We have checked them for ourselves and really enjoyed the food.
All these places are located close to Monastiraki Square.
Don't miss Kostas Souvlaki (Plateia Agias Irinis 2) for one of the best souvlakis in the city.
Their souvlaki is delicious but quite small so we recommend ordering two pitas per person (we liked the beef and pork souvlaki). The prices are very reasonable.
Their opening hours are short and vary so if the shop is closed you can grab a bite in Feyrouz instead.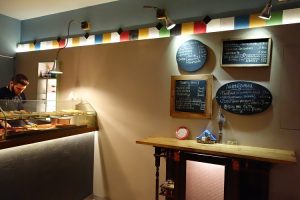 Try Feyrouz (Agathonos 2) for another great street food experience.
They offer Turkish food with Middle Eastern influence.
This is a family business and we had a nice chat with one of the brothers who were very friendly.
We weren't familiar with the food (lahmajoun, peinirli, etc.) but he explained everything to us.
The food was delicious and cheap, and they also offered many options for vegetarians.
It is a special place, we really liked it.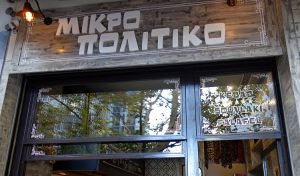 Mikro Politiko (Dionysiou Areopagitou 8) is another small street food shop close to the Temple of Olympian Zeus.
Great for a quick snack on the move, we enjoyed their kebab and falafel.
If you prefer to sit down while enjoying your meal check out Savvas (Mitropoleos 86) or Thanasis (Mitropoleos 69).
These two restaurants are located next to each other just off Monastiraki Square and they offer Greek and Turkish cuisine.
Try their souvlaki, moussaka, gyros, yogurtlu kebab or doner.
Give ouzo a try too – it's a typical Greek aperitif with anise flavour (similar to French pastis).
It is strong but you can also drink it mixed with water.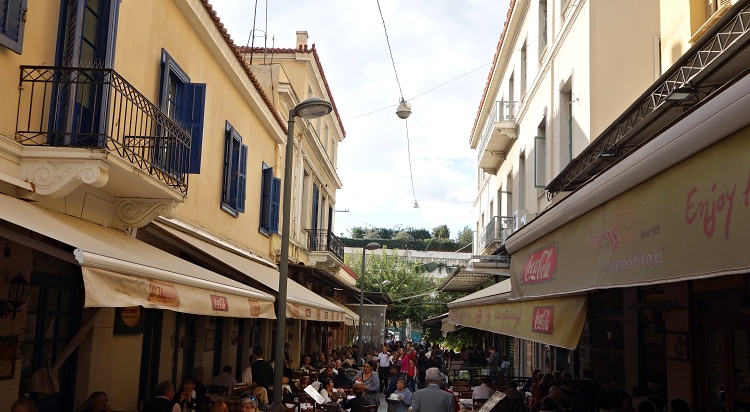 If you fancy a drink, don't miss 360 Degrees Cocktail Bar (Ifestou 2) on Monastiraki Square.
Go to the rooftop terrace to get amazing views of the floodlit Acropolis.
Their signature cocktails are yummy but not cheap.
However, the experience of being outside, listening to great music, sipping a drink and looking at the stunning Acropolis is priceless.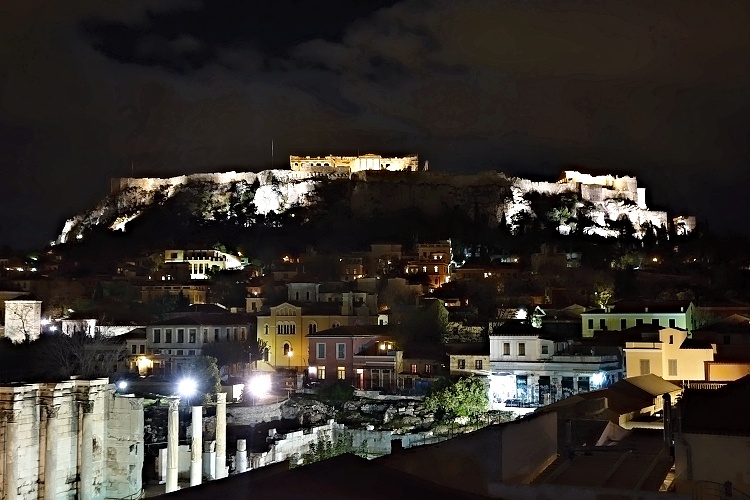 Why not grab an ice cream after your meal or drink?
Check out the Mattonella shop (Ermou 82,) on Monastiraki Square for a great selection of delicious flavours and reasonable prices.
Where to Stay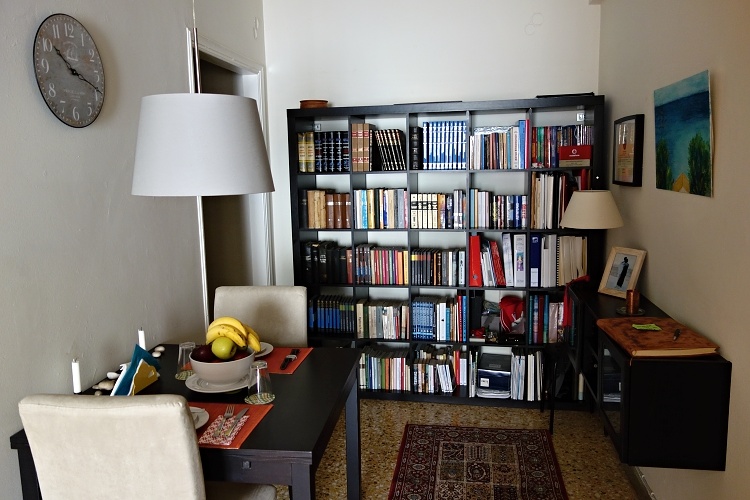 We stayed in a nice Airbnb apartment, but unfortunately, it's not on offer anymore.
But if you're looking for an authentic experience, try Airbnb for accommodation offered by local hosts.
We also like to use Booking.com for hotel searches, as we usually find the best value there.
Getting Around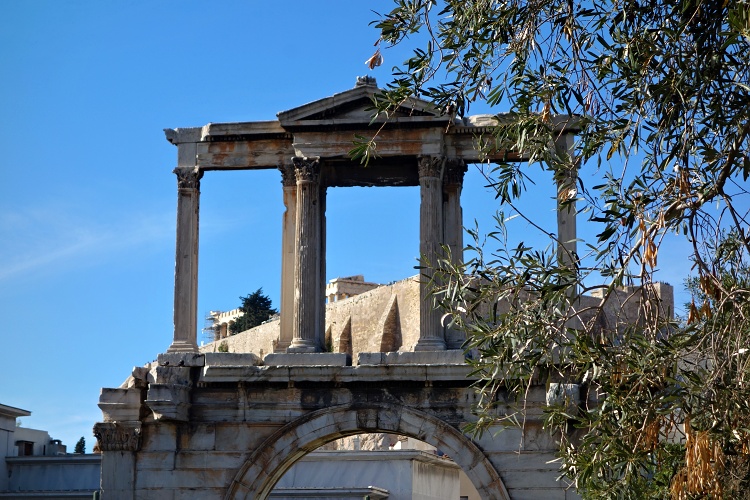 The public transportation system in Athens is very good and efficient.
We used mainly the metro because it was quick and we didn't have to wait for long.
There are three lines that can get you around the city pretty well.
There are also plenty of buses, trams, trolleybuses and trains that you can use.
You can either buy a single ticket or choose one of the discounted cards.
The multi-day cards can save you money but they are worth purchasing only if you are planning to stay in Athens for a few days or travel around a lot.
You can buy them at the ticket offices at the metro, tram and suburban train stations, dedicated ticket machines and booths, and many news-stands.
The cards can be used for various means of transportation.
Some of them also include return transport from and to the airport and entries to some tourist attractions.
Don't forget to validate your paper ticket or card at the beginning of your first journey to avoid paying a fine.
For our three-day stay in Athens, we bought the five-day tickets and it was money well spent.
You won't need these discounted cards if you are staying in Athens just for one day and planning to see only the highlights because you can easily walk around them.
We don't recommend driving in the city if possible because of the heavy traffic and limited parking.
The streets are very narrow because car parking on the pavements is very common.
The official language is Greek but many people, especially those working in tourist areas or public transportation, speak at least a little English.
Most signs are written in both Greek and English so the navigation in the city is straightforward.
Getting There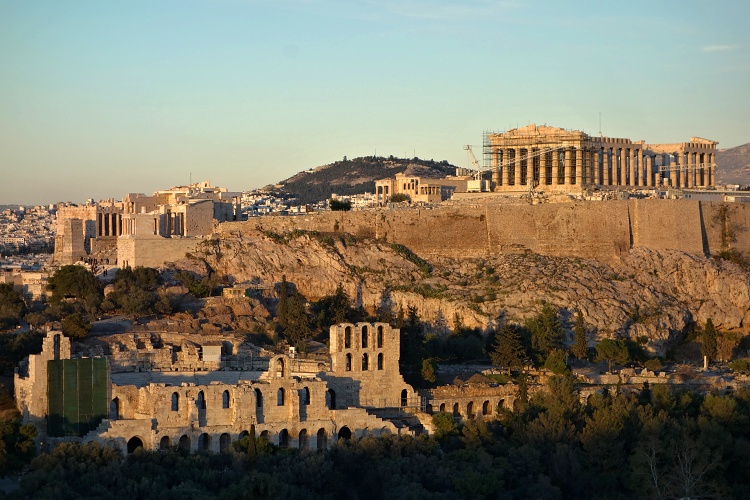 Athens International Airport (ATH) is a new and modern airport, we really liked it.
There are many flight connections to various domestic and international destinations.
The fastest way to get from the airport to the city is by metro (line 3) but you can also take the bus (line X95), which is cheaper.
There are no direct trains, there are only a few connections with at least one stop.
Taxis are convenient but much more expensive, day and night fares differ.
We arrived in Athens late in the evening and that's why we accepted the offer from our Airbnb hosts who picked us up and gave us a lift to the apartment for a reasonable fee.
Strikes are very common in Greece so if you are planning to use public transportation, verify the situation at the station a day before you travel.
When we were leaving Athens, there was a metro strike in the morning but luckily our Airbnb hosts made us aware of the situation and we could plan ahead.
In the end, we took a taxi to Syntagma Square and the Airport Express bus X95 from there well before our morning departure and we managed to be at the airport on time.
You can also get to Athens by coaches (KTEL network), trains or boats.
The main railway station is the Athens Central Railway Station (also known as the Larissa Station).
The main KTEL bus stations are the Kifissos (Bus Terminal A) and Liossion (Bus Terminal B).
Final Thoughts
Athens is an amazing city that we fell in love with.
It exceeded our expectations and we hope to be back one day to explore it further.
Don't miss this gem on your trip to Greece!
Tip
We've teamed up with GPSmyCity so that you can use this 'One Day Only – Athens' guide on your trip.
This mobile app comes with a GPS map and it works offline so you don't need to worry about an internet connection or a data plan.
You can download it here.
Are you thinking of visiting Athens? Let us know if you have any questions!