What would your dream holiday in Europe look like?
What about picturesque historic towns, dramatic coast, crystal-clear waters, pretty islands, various National Parks and amazing views around every corner?
If it sounds good, a Croatia road trip could be your next perfect holiday.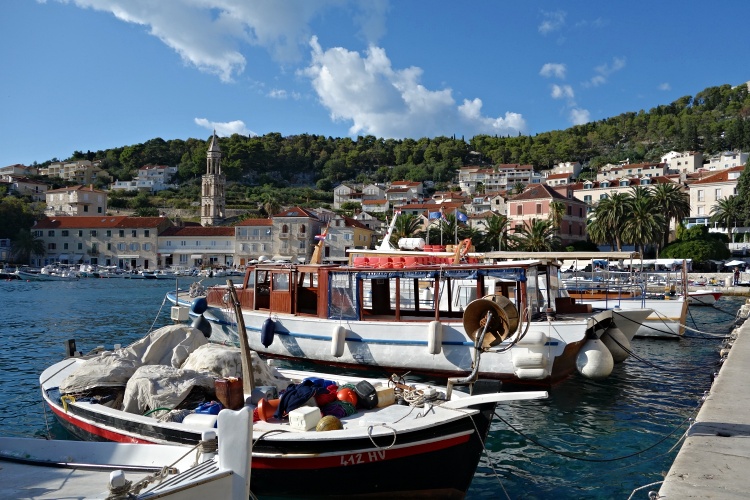 Croatia is a beautiful country located on the Balkan Peninsula in Southern Europe and a road trip is the best way to explore it.
Driving will give you the flexibility and freedom to see what you want at your own pace and you won't miss all those stunning views in the countryside.
In comparison to the USA or Canada, the distances between the main sights in Croatia are relatively short so you won't spend too much time in the car.
Related Post: Road Trips for First-Timers
Get inspired by our itinerary that we have done ourselves, find out what to see and where to park to make your trip hassle-free.
Best Time to Visit Croatia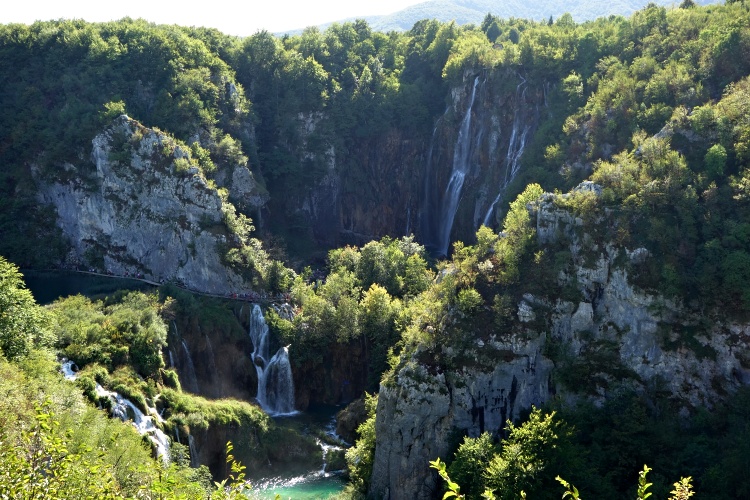 Every year millions of people from all over Europe drive down to the Adriatic Sea to enjoy their summer holiday.
If you want to avoid high prices, queues, traffic jams, and overcrowded beaches and sights, avoid travelling to Croatia in July and August if possible.
The best time to visit Croatia is in the shoulder season, which is June or September, when the sea is still warm and temperatures pleasant, there are not so many people around and prices are lower.
Related Post: 6 Things You Need to Know About Off-Season Travel
The only downside is that some attractions might be closed or their opening hours reduced, so do your research before you go to avoid disappointment.
But this is just a small price to pay for the much better travel experience.
We visited Croatia in September and we enjoyed our trip very much.
Kat was pregnant at that time, so she appreciated that it wasn't too hot and the places weren't crowded.
7-Day Croatia Road Trip Itinerary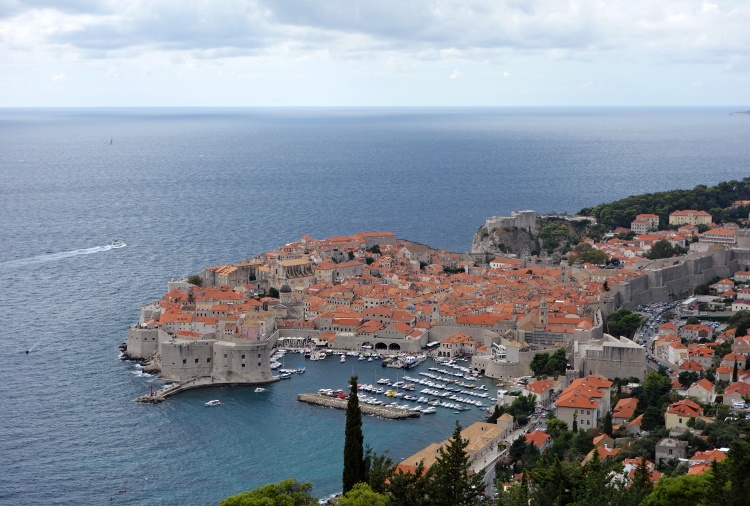 Our itinerary is flexible so you can do it in either direction or even change the order of the stops depending on what's convenient for you.
If you have more time, you can stay longer in any of the places or add extra one-day trips.
We drove south from the Czech Republic, where we currently live, and we started in Plitvice Lakes and finished in Dubrovnik. We visited Zagreb on the way back home to cut down on the return driving time.
While in Dubrovnik, we also did one-day trips to Montenegro and Bosnia & Herzegovina.
Related Post: Bosnia & Herzegovina
The following places are the highlights that will make your trip to Croatia unforgettable:
Day 1 – Zagreb
Day 2 – Plitvice Lakes
Day 3 – Split
Day 4 – Hvar
Day 5 – Hvar
Day 6 – Dubrovnik
Day 7 – Dubrovnik
Day 1 | Zagreb: Capital of Croatia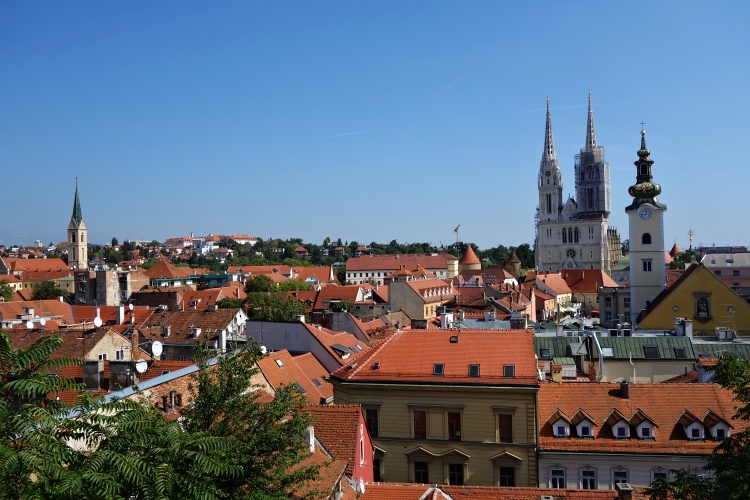 Even though most visitors to Croatia head to the coast, it would be a mistake to miss the interior.
Zagreb, the capital and the biggest city of Croatia, is located in the north of the country.
It might not be as well known as other European capitals but it is becoming a popular city-break destination and definitely deserves more attention.
If you are looking for history, culture, art, architecture, nightlife or gastronomy, you will find it in Zagreb.
Related Post: How to Travel While Working Full Time
The city centre is compact and easy to explore on foot, so you can see most of the landmarks in one day.
The city centre contains two parts – the Upper Town (Gornji Grad) and the Lower Town (Donji Grad).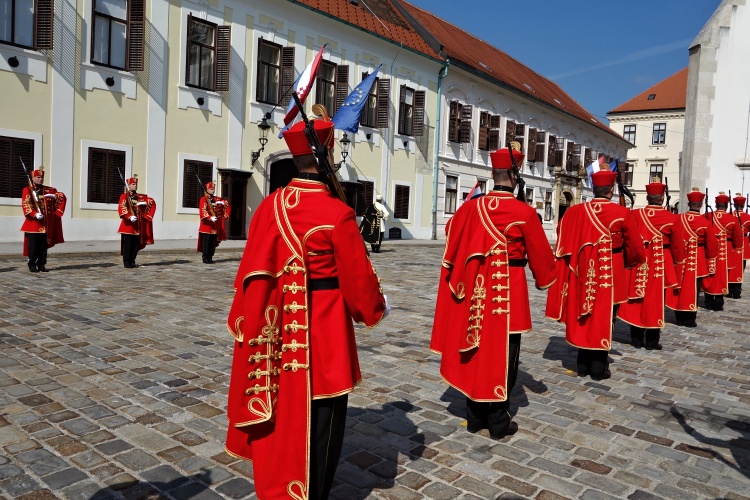 Explore the Upper Town, which is Zagreb's old town, where you can find most of the city's oldest historic buildings and churches.
Don't miss the St. Mark's Church (Crkva Svetog Marka) with its colourful roof and watch the change of guards nearby.
The buzzing Dolac Market is another must-see, where you can try and buy some local produce. Croatian mandarins were our favourite and we ate loads of them – they were so tasty and juicy.
For the best views of Zagreb visit the area around the Lotrscak Tower (Kula Lotrscak), where you can also find the famous city mini-funicular.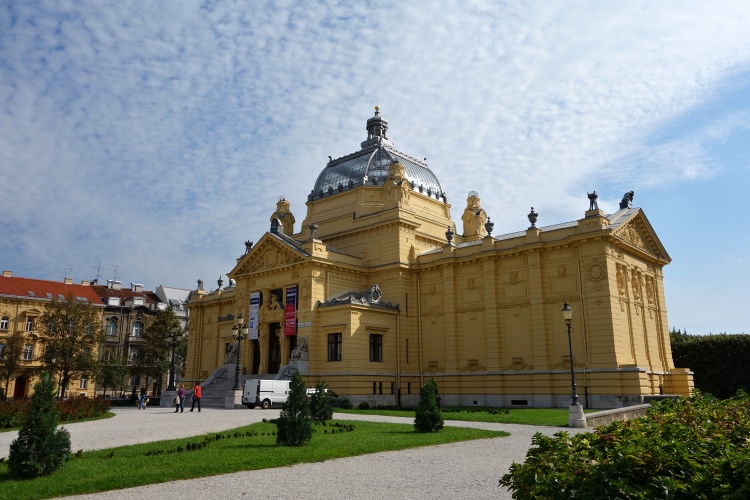 Continue downhill to the Lower Town, which is home to many parks, shops and restaurants.
Our favourite part was the green space around Strossmayer Square (Park Josipa Jurja Strossmayera) including the beautiful Art Pavilion (Umjetnicki Paviljon).
PARKING: You can try parking at Lang Square (very narrow parking spots, busy, in the city centre), the public car park Tuskanac (10-minute walk from the city centre) or Kvaternikov Square (a 20-minute walk from the city centre or a few tram stops). It's hard to find cheap parking in the city centre and that's why we booked an Airbnb apartment with complimentary parking and walked into the city centre from there.
Day 2 | Plitvice Lakes National Park: Mother Nature at Her Best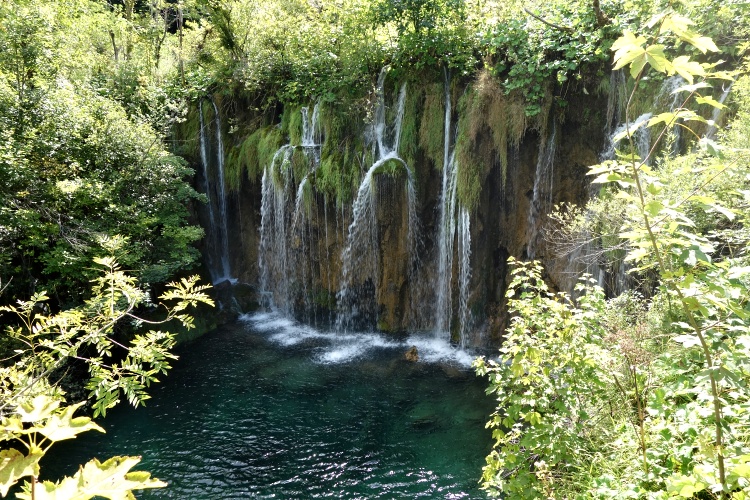 Plitvice Lakes National Park is another place in the interior of Croatia that is worth visiting.
This National Park is situated in central Croatia and is on the World Heritage List of UNESCO.
If you like nature, hiking and being outdoors, this will be your happy place.
Related Post: 5 Reasons Why You Shouldn't Put Travelling Off
Plitvice consists of 16 interconnected lakes surrounded by forest – there are 12 Upper Lakes (Gornja Jezera) and 4 Lower Lakes (Donja Jezera).
Each of the lakes has a different colour, from grey to dark blue, depending on the current weather and the amount of minerals in the water.
The water in all the lakes is so clear that you can see the vegetation in it but it's not possible to swim in any of the lakes.
You can find many waterfalls here too – the biggest one is the Great Waterfall (Veliki Slap).
It's 78 metres (256 feet) high and is located in the lower part of the lakes.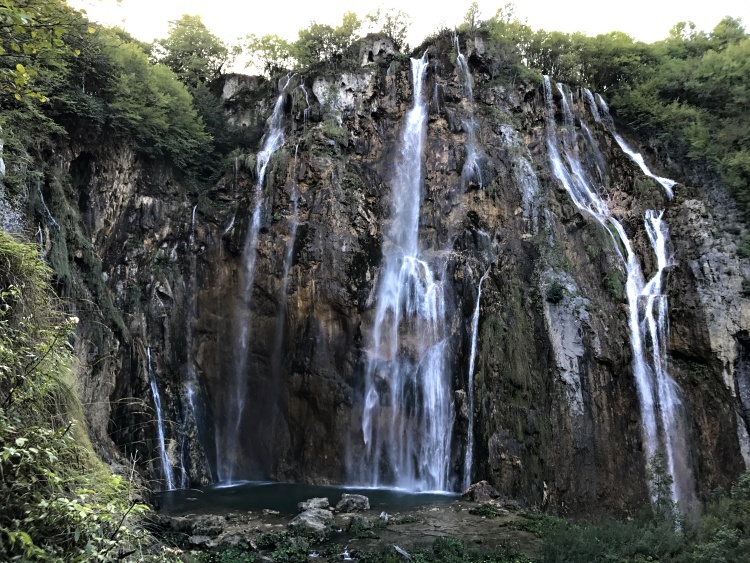 There are a few walking trails that you can choose from depending on your abilities and how much time you have.
You can also get around the park by buses or boats – this service is included in the price of the ticket.
We visited Plitvice Lakes in mid-September and the area got very busy during the day, so we can't imagine how bad it must be during summer.
Some of the footpaths got congested by people taking photos, so we had to wait to be able to pass because the trails were too narrow.
We parked at the less busy Entrance 2 and we chose to follow the Trail H because it included most of the park's highlights.
We enjoyed the walk along the lakes, especially on the boardwalk, and soaked up the beautiful sceneries (and took hundreds of photos in the process).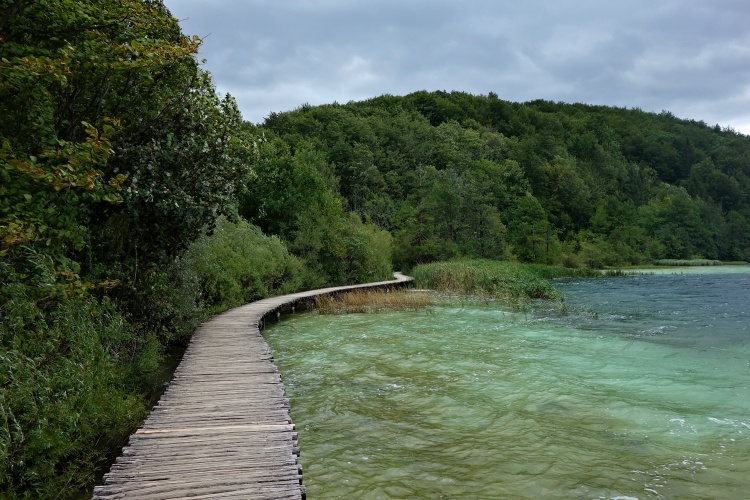 Try to avoid July and August because the park gets so busy that it can ruin your experience.
If that is not possible, go there during midweek rather than at a weekend and arrive early.
It's colder in Plitvice Lakes than on the coast, so wear warmer clothes and comfortable shoes.
It's a good idea to bring some food and drinks with you because refreshment options in the park are limited.
PARKING: You can park at the Entrance 1 if you are coming from Zagreb or at the Entrance 2 from the Split direction. The car parks are located close to each other, so if one of them is full, you can drive to the other one.
Day 3 | Split: Vibrant City Full of History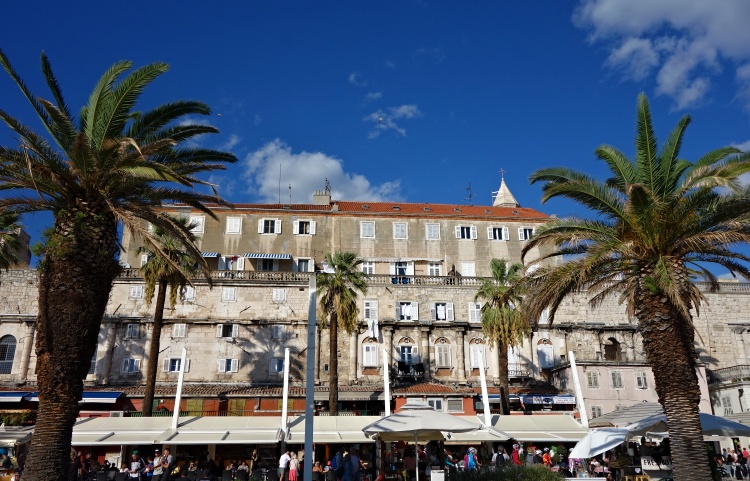 The lively city of Split offers so much variety to its visitors and there is something for everyone.
The historic centre has been built on the remains of the Diocletian's Palace, a UNESCO World Heritage Site, which is an impressive example of Roman architecture.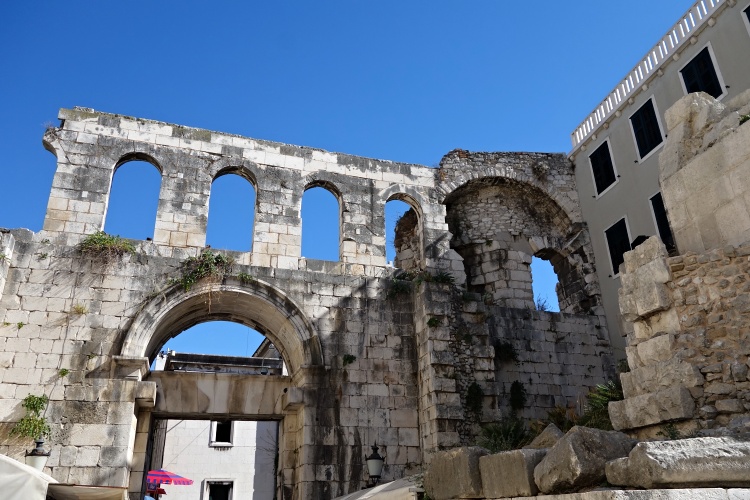 The busy seafront promenade Riva is full of pretty buildings and palm trees and looks like a holiday resort.
Due to its location Split is an important port and gateway to many Croatian islands, as many sailing trips start here.
There is even a beach within a walking distance to the city centre – it's called Bacvice.
This is a sandy beach with shallow waters, making it perfect for families. There are plenty of restaurants along the shores that are great for a meal or drink, and most of them offer 'happy hours'.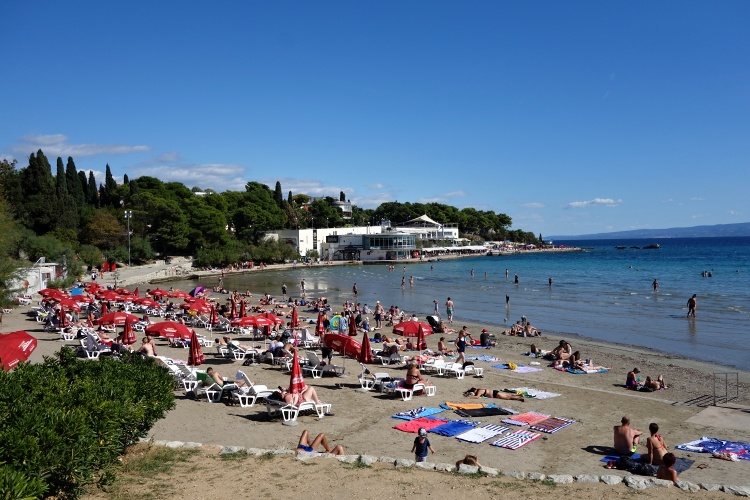 PARKING: If you are lucky, you can find free parking spots on Setaliste Bacvice Street. From here, it will take you five minutes to walk to the Bacvice beach or 15 minutes to the city centre.
Day 4 and 5 | Hvar: Sunny Croatian Paradise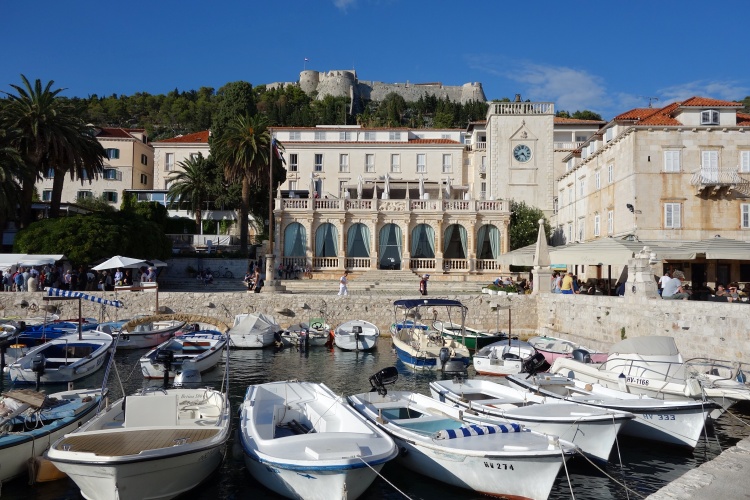 No trip to Croatia is complete without visiting at least one of many Croatian islands in the Adriatic Sea.
We chose Hvar Island, the most popular and the sunniest island in Croatia – and we weren't disappointed.
The best way to explore the island is by car or scooter – it will take you about an hour to get from one side to another.
There aren't many roads on the island and you can try to drive them all to see all the varied landscape and stunning views.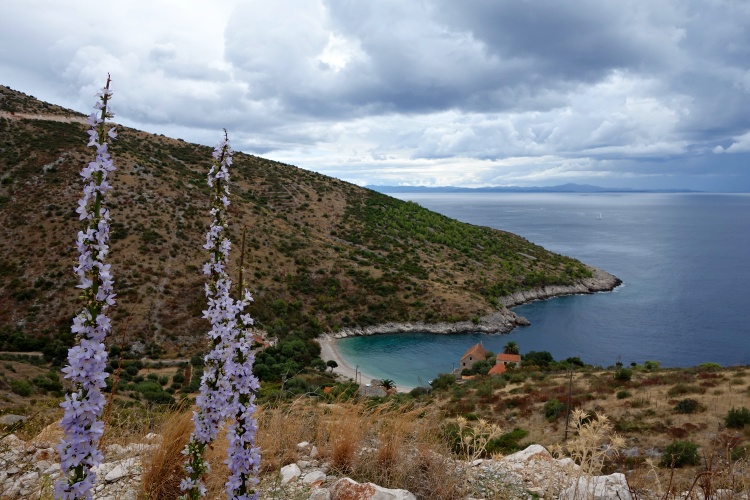 Hvar has it all – romantic towns and villages, hidden beaches (most of them are pebbled or rocky), pretty lavender fields, vineyards and olive groves.
The main towns on the island (Hvar Town, Stari Grad, Jelsa) are worth visiting not only for their historic centres and picturesque harbours but also for their local shops and restaurants.
Head to Hvar Town if you are looking for vibrant nightlife.
Drive around the area of the Stari Grad Plain, which is listed as a UNESCO World Heritage Site.
If you have time, head to the Pakleni (or Paklinski) Islands just off Hvar Town for a day trip.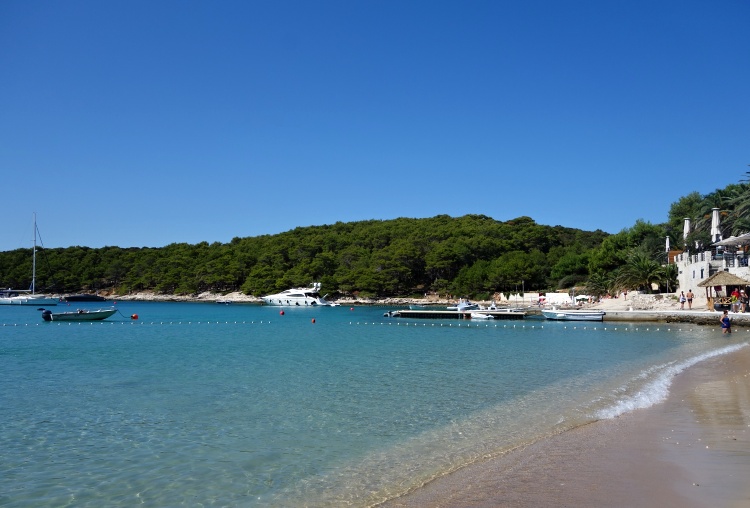 We took a water taxi to Palmizana on the Island of Sveti Klement and enjoyed the hike through the pine forest to Vlaka for amazing views of hidden bays and beaches followed by cooling down on the Palmizana Beach.
PARKING: There are many cheap car parks near the centre of Hvar Town. Most of them are located on Dolac and Ive Milicica Streets. If you are heading to the fortress (or just would like to get great views of the harbour) and don't want to walk up, drive up and you can park near the fortress for free.
Day 6 and 7 | Dubrovnik: Pearl of the Adriatic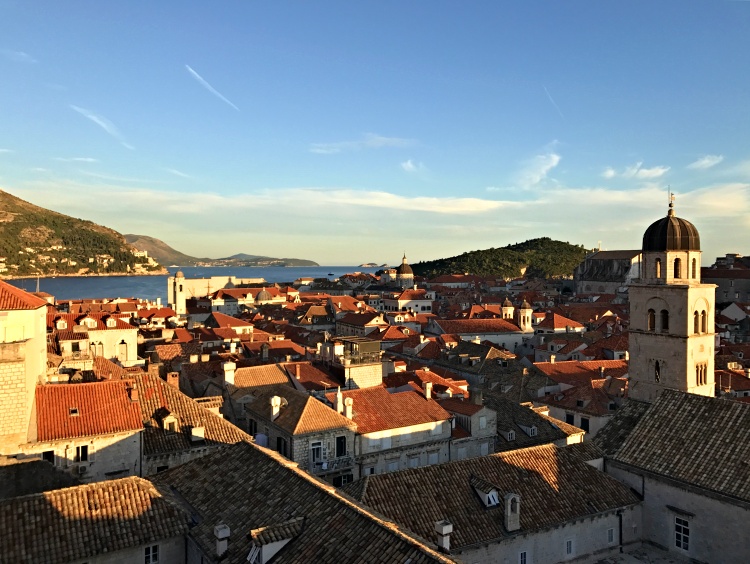 On the way down to Dubrovnik you are going to enter Bosnia & Herzegovina shortly, so make sure to check if you need a visa before your trip – the country currently is not a member of the European Union or Schengen Area.
Get your tank full while in Bosnia & Herzegovina – the fuel is much cheaper there than in Croatia.
Related Post: How to Travel the World When You Don't Have Money
Dubrovnik is the highlight for most people visiting Croatia and it became even more popular after some of the scenes in Game of Thrones were filmed here.
The main landmark and must-see are the ancient City Walls, which were built to protect the city against attacks.
Walk on the City Walls to see this beautiful city from above – admire its colourful roofs matching the dark blue waters of the Adriatic sea perfectly.
We recommend walking the City Walls in the morning or late afternoon for a better experience, especially if you travel in summer – it's just too hot during the day there because there is no shade.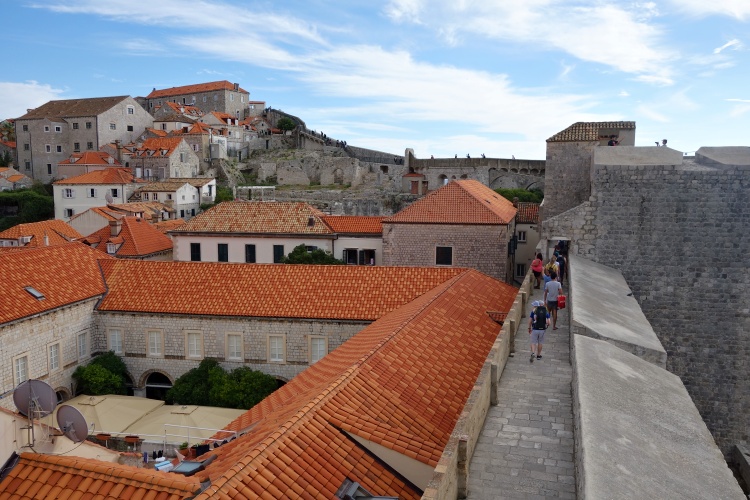 Visiting the Old Town, which is on the UNESCO list of World Heritage Sites, is a must – get lost in the cobblestone streets to discover hidden corners, museums, churches, galleries, shops or cosy restaurants.
Unfortunately, the price that Dubrovnik pays for its popularity is high – it's crowded, especially in the Old Town.
That's why it's a good idea to start your sightseeing early not only to avoid the crowds but also the scorching sun.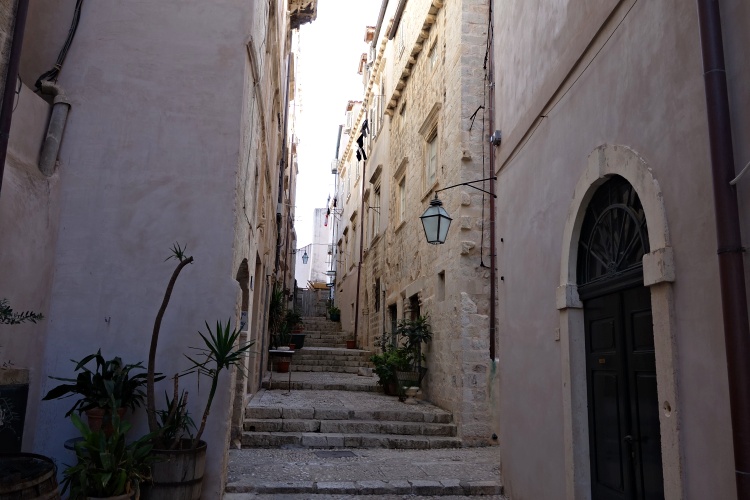 If you plan to visit the City Walls and other attractions in the Old Town, get the Dubrovnik Card to save money on the entrance fees.
It can also be used for local transportation and you will receive further discounts.
Order it online to save a further 10 per cent.
You can pick it up in the Tourism Board office just off the Pile Gate that leads to the Old Town.
PARKING: Leave the car at your accommodation and use the local public transport, which is very efficient. Driving is not permitted in the Old Town at all and trying to find inexpensive parking close to the city centre is just too much hassle.
That's the end of our Croatia road trip itinerary, on which you will have seen the most beautiful places in Croatia.
More Trip Ideas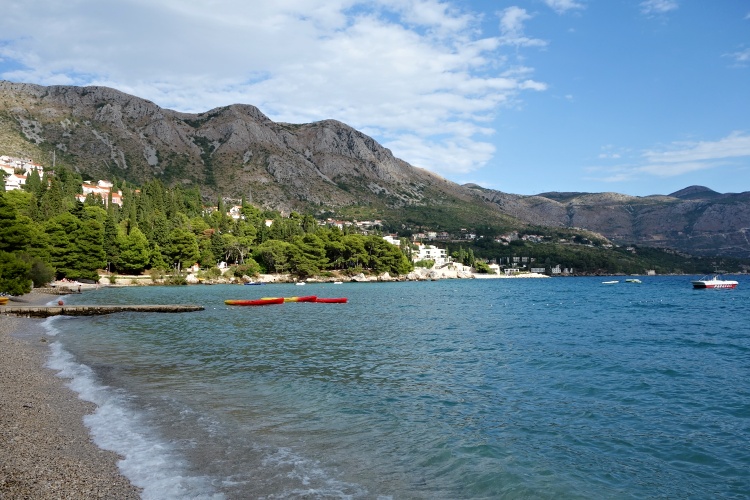 If you still have some time to spare, why not explore more interesting places?
You can use Dubrovnik as your base and do a few one-day trips from there, or you can even explore two other countries nearby.
Mlini and Kupari, Croatia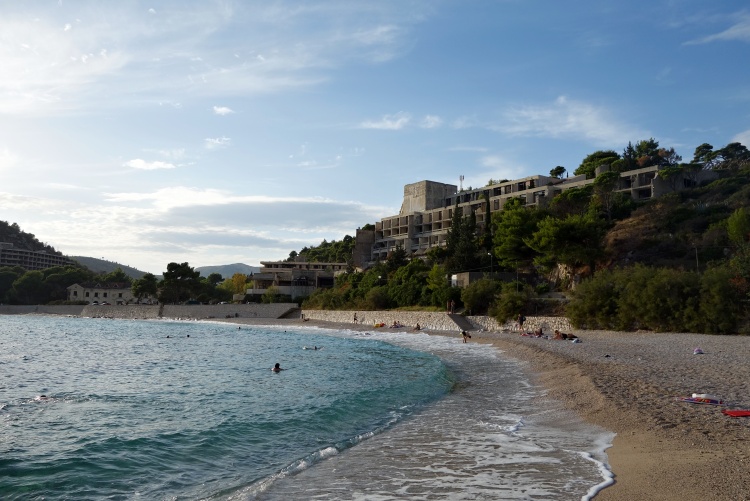 Dubrovnik isn't really a beach destination, there are just a few small and crowded beaches.
Instead, visit the beach and harbour in the seaside town of Mlini, which is just a 15-minute drive by car or bus.
Walk along the coast to get from Mlini to the abandoned hotel complex in Kupari – the hotel buildings look and feel like a ghost town with many scars of war.
There are plans to rebuild the Kupari area in future so check it out before it's gone.
Mostar, Bosnia & Herzegovina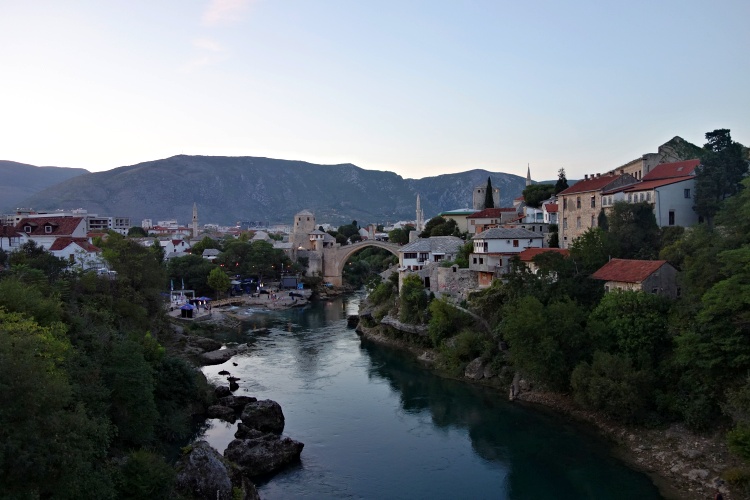 Mostar is a beautiful small city in Bosnia & Herzegovina just a 2.5-hour drive from Dubrovnik.
Walk around the Old Town, admire the iconic Old Bridge and locals jumping off it, learn about the difficult past of the city and enjoy the prices, which are much lower than in Croatia.
Related Post: 7 Reasons to Visit Mostar in Bosnia & Herzegovina
Kotor, Montenegro
Kotor in Montenegro is just two hours away.
The drive along the beautiful Bay of Kotor is an experience on its own – stop in the small towns on the way for great views and photo opportunities.
Explore the narrow streets of the Old Town in Kotor and climb the Town Walls (only 1,350 steps!) for stunning views of the town and the bay.
Where to Stay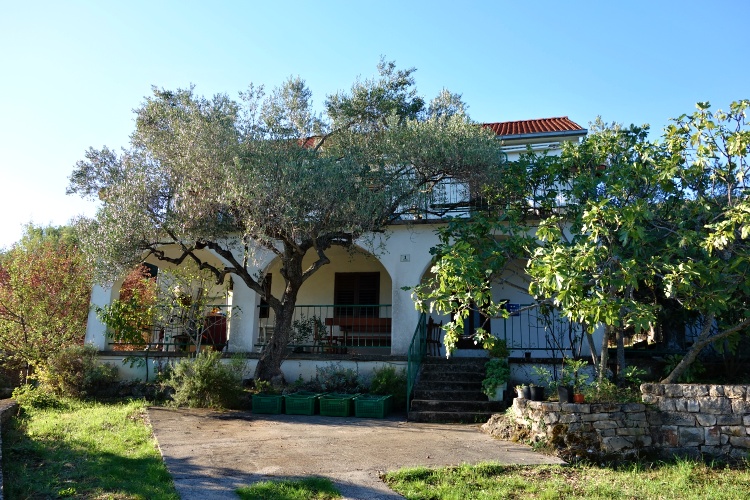 Accommodation in Croatia can be very basic and outdated so verify the other travellers' reviews before you make the booking.
We like to use Booking.com for hotel searches, as we usually find the best value there.
Related Post: How Not to Feel Overwhelmed When Searching for Accommodation
If you look for a more 'authentic' experience, try Airbnb for accommodation offered by local hosts. You can get the free credit for your first booking here.
Related Post: Airbnb for First-Timers
The Best of Croatia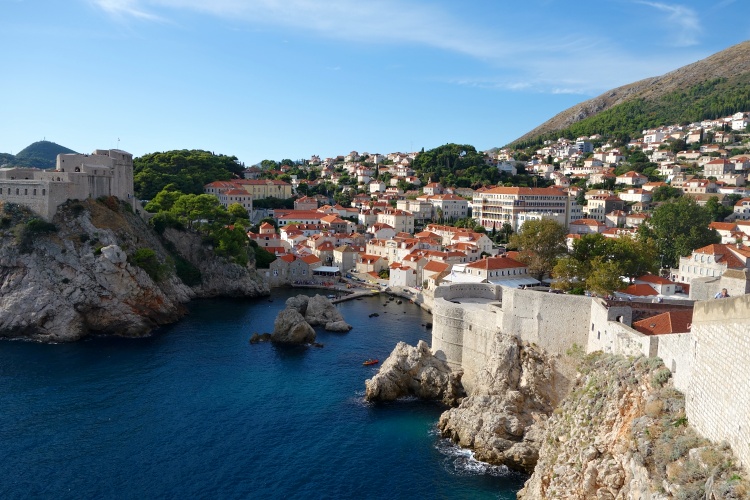 This is our recommended Croatia road trip itinerary to see the most beautiful sights of this interesting country in a week.
However, don't get disappointed by the lack of sandy beaches – they are mainly pebbled, rocky or even concrete here – because there are so many other reasons to visit Croatia – let's find yours…
What Do You Think about Our Croatia Road Trip Itinerary?
Are you planning to visit Croatia or have you already been there? Which places would you like to see?  
Did you like this article? Please share it, so more people can experience this beautiful country.