Mostar is one of the most visited cities in Bosnia & Herzegovina. Now, after we have finally been there, we understand why – it's such an interesting place!

But it's not only the iconic Old Bridge (Stari Most), charming Old Town, historical past or cultural mixture, that make Mostar a must-see destination in the Balkans – you need to go and see for yourself…
We decided to visit Mostar during our road trip in Croatia – it was only a short detour on the way down to Dubrovnik.
In the end, we were so glad we did it because we loved Mostar and we only regretted we couldn't spend more time there.
Related Post: Bosnia & Herzegovina
Mostar is a fascinating multicultural city where Western and Eastern influences mix together.
Find out why you shouldn't miss Mostar on your next trip to Europe:
Old Bridge (Stari Most)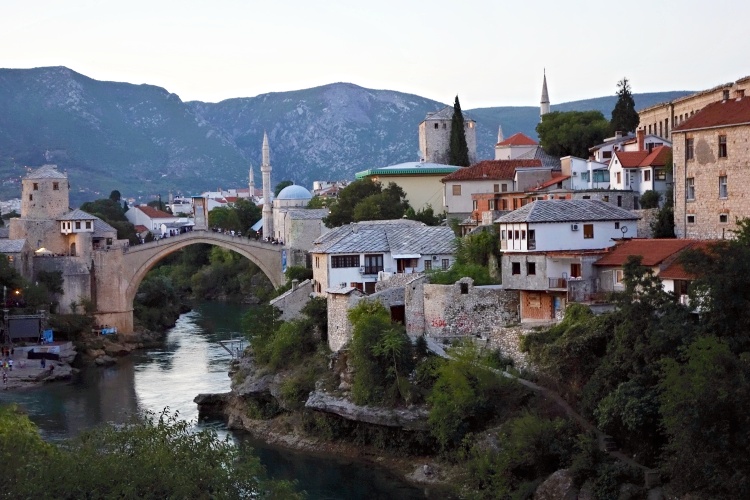 The impressive Old Bridge (Stari Most) is the main landmark of Mostar and is considered to be the heart of the city.
It spans the Neretva River and connects the two sides of the city.
Related Post: 5 Reasons Why You Shouldn't Put Travelling Off
Originally built in the 16th century, this Ottoman-style bridge was destroyed during the Bosnian war in 1993.
Its restoration was finished in 2004 and the Old Bridge has been listed as a UNESCO World Heritage Site since 2005.
We enjoyed wandering around the area and taking in the great views, it's such a picturesque place.
Tip: The bridge itself is quite steep and slippery, so walking across can get tricky, especially if it's wet – good walking shoes are definitely a good idea.
High Diving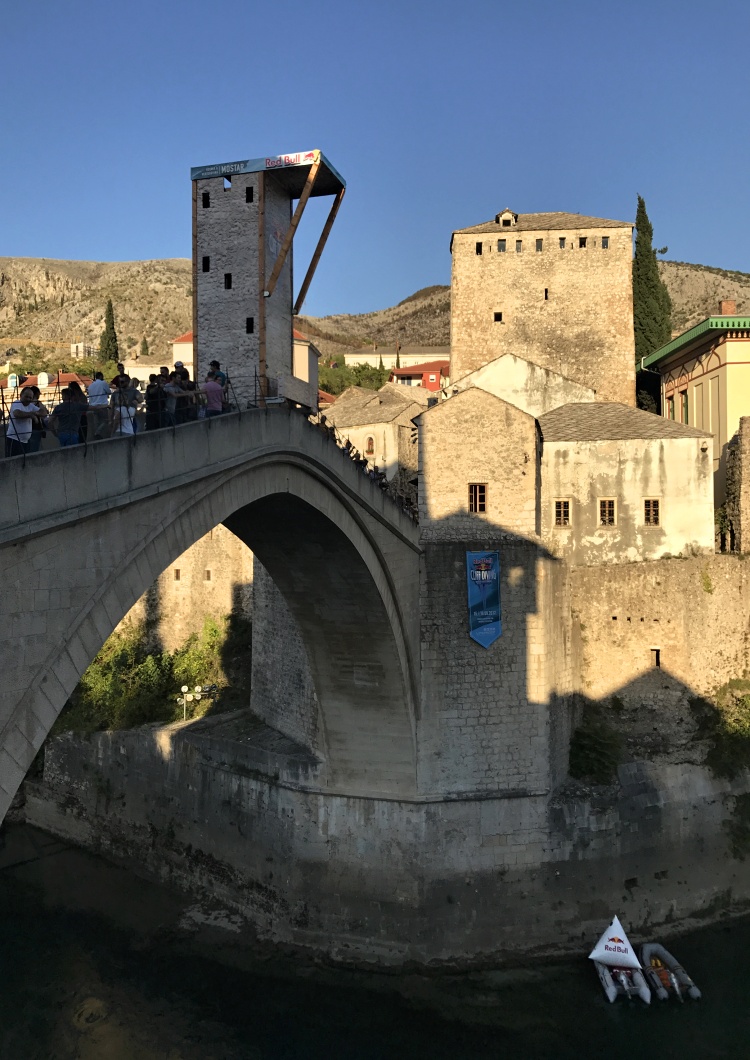 If possible, plan your trip to see some of the diving competitions, which usually take place in the summer.
The city gets busy but watching the divers jumping off the 24-metres (79-feet) bridge is an unforgettable experience.
Mostar is on the roadmap of the Red Bull Cliff Diving Series and the Old Bridge is the only place in the world where jumpers dive from a UNESCO World Heritage Site.
Related Post: 6 Things You Need to Know About Off-Season Travel
Actually, we visited Mostar during the Red Bull Cliff Diving Series by coincidence, but we arrived too late, so we didn't see any divers in action.
That's why there is the jumping platform on all our photos of the Old Bridge.
Tip: Thinking of jumping yourself? Think twice!
Get the feeling of the height from the top of the Old Bridge first and if you still want to do it, get professional training from the local diving club.
The bridge is really high and the water is freezing, so any mistake can be fatal.
Old Town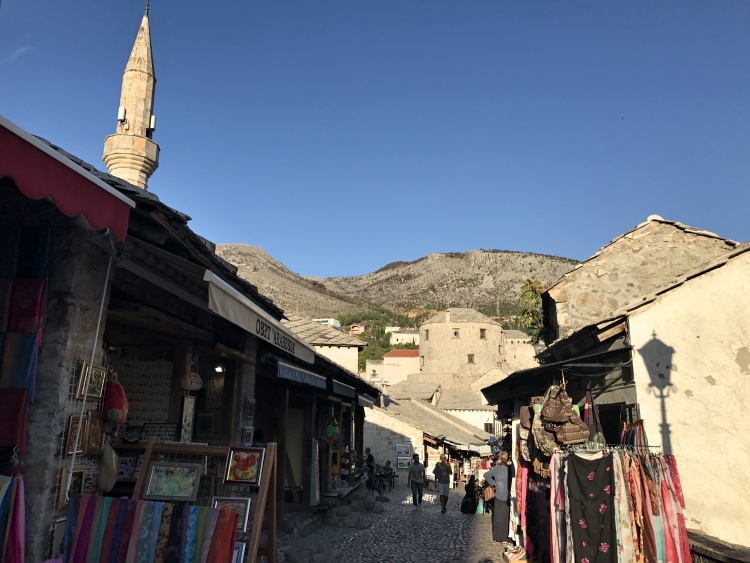 The lively Old Town of Mostar spreads on both sides of the Neretva River in the area surrounding the Old Bridge.
The narrow streets, which can get quite crowded, are full of colourful shops, stalls and restaurants inviting passers-by to drop in.
Related Post: How to Travel the World When You Don't Have Money
You can buy mainly souvenirs, clothing and local handicrafts here, but the market still has the lively 'bazaar' atmosphere, so you might feel like you are in Istanbul rather than in Europe.
Most historic buildings in the area were seriously damaged during the war but they have been beautifully restored.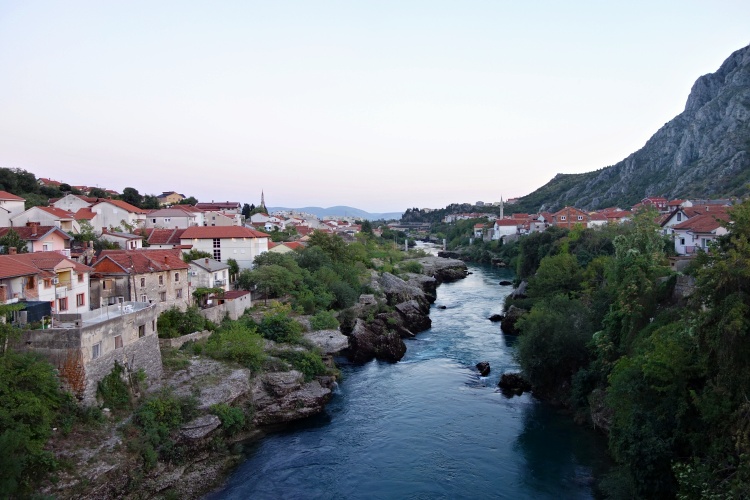 Try some of the local traditional food, which is hearty and usually meat based.
Cevapi, sausage-shaped grilled minced meat, is the most common. We loved it so we make it at home now, it's a quick and easy meal.
Related Post: How to Travel While Working Full Time
If you don't have time to sit down in a restaurant, grab a burek (pastry with various savoury or sweet fillings) in a bakery. It's tasty and filling, so it's a great cheap snack if your budget is limited.
Petr liked the meaty filling, Kat preferred the spinach burek.
Coffee lovers shouldn't miss a cup of strong Bosnian coffee (bosanska kahva).
Tip: The cobblestone streets of the Old Town also get slippery when wet, so make sure to wear comfortable shoes (Kat learnt it the hard way with her flip-flops!).
Historical Past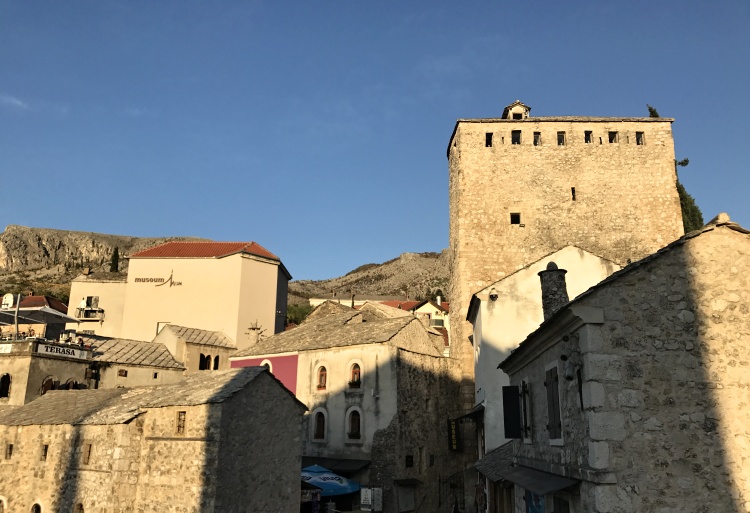 You might have heard of Mostar in the 1990s when it made headlines during the war in Bosnia & Herzegovina.
The city was heavily bombed and suffered significant damage, so most of the city had to be rebuilt (even the historic Old Bridge).
The Bosnian war left its mark on the city and you can still find bullet-ridden and abandoned buildings around, but today's Mostar is a vibrant and welcoming city where we felt safe.
Drop into some of the local museums to learn more about Mostar's past.
Mixture of Religions and Cultures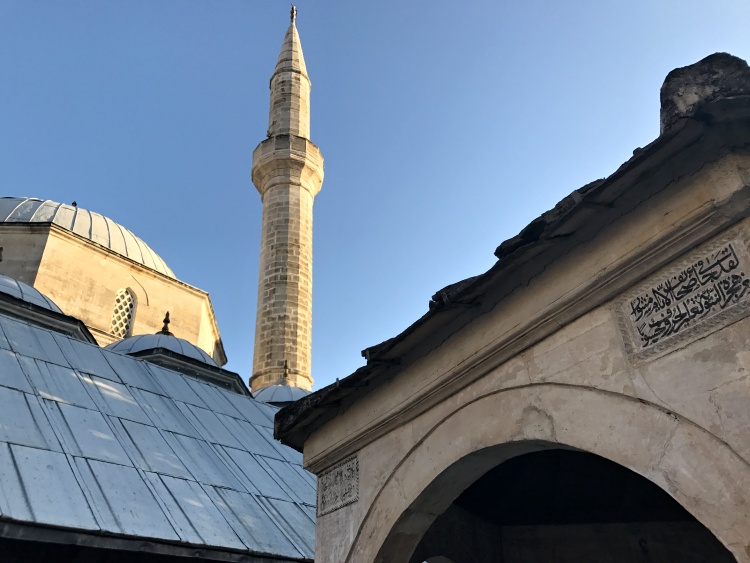 Mostar is one of the most ethnically diverse cities that we have visited so far – various religions, cultures and traditions co-exist here.
A few mosques and their tall minarets will probably catch your attention first, but you can also find Catholic and Orthodox churches or a synagogue here.
Related Post: Road Trips for First-Timers
Visit the 17th-century Koski Mehmed Pasha Mosque (Koski Mehmed-pasina dzamija) with its pretty courtyard and climb the minaret for great views of the city and the Old Bridge. 
Follow Brace Fejica Street to reach the larger Karadoz Bey Mosque (Karadoz-begova dzamija), originally built in the 16th century – it's just a short walk.
Across the river you can find the Catholic Church of St. Peter and Paul (Zupna crkva Svetog Petra i Pavla).
The church was undergoing renovations when we were there, so the masses and exhibitions were held in the basement, which was really interesting.
Tip: Bosnia & Herzegovina currently is not a member of the European Union or Schengen Area, so verify if you need a visa before your trip.
Great Views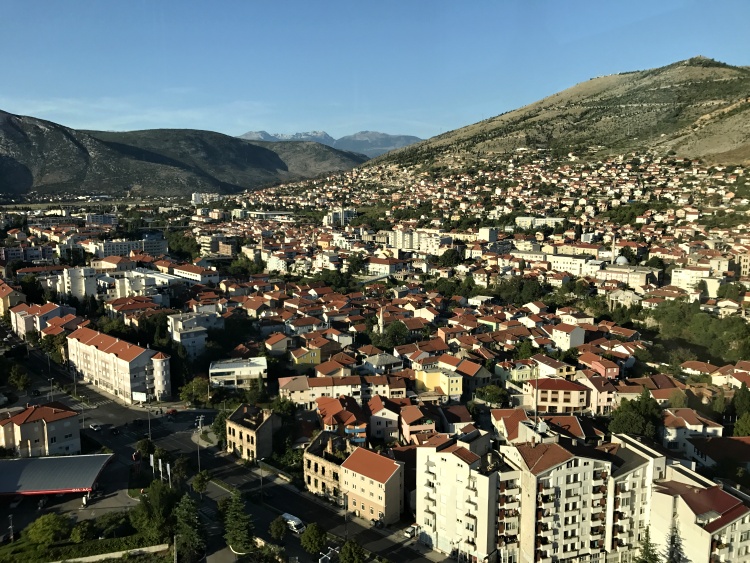 You can expect many spectacular views in Mostar thanks to the city's location in the valley that is surrounded by mountains.
For the best views of the city, you can climb some of the minarets or visit the Peace Bell Tower (Mostarski Zvonik Mira), which is located just next to the Church of St. Peter and Paul.
You can also follow the Neretva River and admire Mostar from one of the bridges.
Tip: If you travel by car, there is a cheap car park next to the Peace Bell Tower, which is just about a 10-minute stroll to the Old Bridge. The parking fee was just 1 Euro per day when we were there in 2017 and it was payable in the Campanile bar. 
Shopping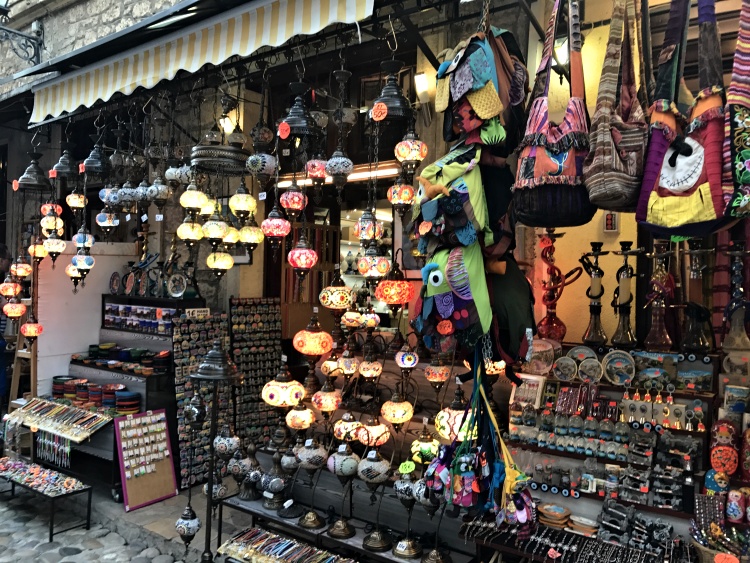 In general, prices in Bosnia & Herzegovina are low and you can get much better value here than in neighbouring Croatia.
If you don't mind bargaining, you can get some good deals in the Old Town market where you can buy souvenirs, local handicrafts or clothes.
If shopping is your thing, head to the Mepas Mall, which is a typical shopping mall with a supermarket, clothing stores, cafes and so on.
Related Post: How not to Feel Overwhelmed When Searching for Accommodation
Tip: As most shops in the city centre accept Euro (in a 1 to 2 ratio), it's not necessary to get the local currency (Convertible Mark) if you are in the city just for a short period of time. Some shops also accept Croatian Kunas.
You will get any change back in Convertible Marks though.
You can always use one of the ATMs to withdraw some Marks if you wish.
Visa and Mastercard are often accepted, American Express not so much.
Where to Stay
We didn't stay in Mostar overnight because we travelled just for a day there, but you can find a great selection of accommodation on Booking.com. We usually find the best value there.
If you look for more authentic experience, try Airbnb for accommodation offered by local hosts. You can get the free credit for your first booking here.
Related Post: Airbnb for First-Timers
What We Thought about Mostar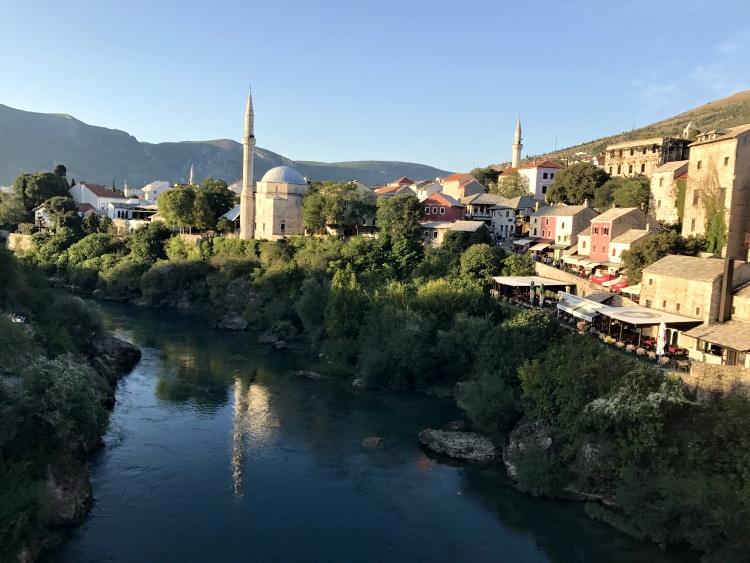 We made the decision to visit Mostar spontaneously while on the road in Croatia and we didn't expect much, but the city pleasantly surprised us.
We completely fell in love with this beautiful city, which went through so much in the past.
Mostar is a special place that deserves much more attention than it gets and we plan to spare more time for exploring this interesting city and country on our next trip to the Balkans.
BONUS
We've teamed up with GPSmyCity so that you can use this '7 Reasons to Visit Mostar in Bosnia & Herzegovina' guide on your trip.
This mobile app comes with a GPS map and it works offline so you don't need to worry about internet connection or a data plan. 
You can download it here.
What do you think about Mostar?
Are you planning to visit Mostar or have you already been there? Would you jump off the Old Bridge? 
Did you like this article? Please share it, so more people can experience this great city.