We love adventures – you might have noticed that!
We have done rock climbing, zip lining, diving, swimming in a cage with sharks, white water rafting, skydiving and extreme roller coasters.
You name it and either we have done it or it is on our to-do list.
Bungee jumping had been on our list for a long time.
In the end, it proved to be much harder than it seemed on photos and videos.
Bungee jumping took our adventures to another level and we learned a few life lessons in the process.
While we were on a road trip in New Zealand in January this year, we knew that this was the best place to give it a try.
Related Post: New Zealand
New Zealand is considered the birthplace of bungee jumping, which has been popularised here.
The country is also renowned for innovation, great facilities, many years of experience and, most importantly, an excellent safety record.
Queenstown is called the 'Adventure Capital of the World', so we felt that we should do our first jump there.
This post has been written from Kat's point of view because this has been a rather personal and intense experience.
Petr's instinct for self-preservation is quite relaxed in comparison with most people, so his experience made for another story. You can read it here.
Bungy Or Bungee?
Both words have the same meaning.
Bungy is the spelling used mainly in New Zealand, while bungee is more common in the rest of the world.
Related Post: What You Should Know Before Travelling to New Zealand
SkyJump Las Vegas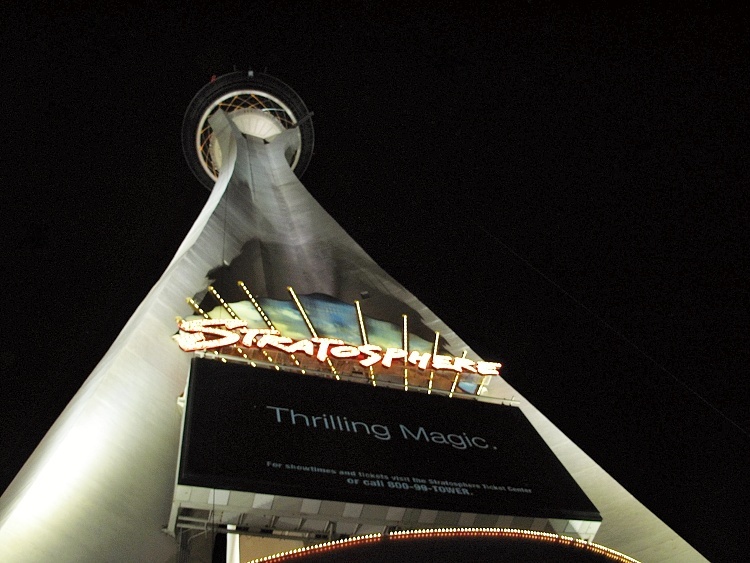 The list of adventures that I have been through is long and I am proud of that.
There has been only one exception – SkyJump Las Vegas – which is the highest controlled descent in the world.
The launching pad is located on the 108th floor of the Stratosphere Casino, Hotel & Tower, 260 metres (855 feet) above the Las Vegas Strip.
While we were in Las Vegas a few years ago, we decided to do the night jump.
Related Post: 5 Reasons Why You Shouldn't Put Travelling Off
I was super confident because we had just done our first skydiving in Cuba a few months before and I loved it.
We had jumped out of an old airplane 3 km (1.9 miles) above the ground, so it could not be worse, right?
I was wrong, it was.
I was fine until I got to the jumping platform where everything changed.
When I started to feel the wind on my face, I realised what height I was at.
I was supposed to jump into the dark and I could not do it, my confidence was gone.
I chickened out.
What was so different between skydiving and this jump?
I was on my own. There was no experienced instructor I could hang on to.
I took the challenge too lightly.
On the other hand, Petr managed to jump. The fee that we had paid was non-refundable, so he jumped twice so as not to waste the cost of my ticket. How cool is that?!
Kawarau Bridge Bungy, Queenstown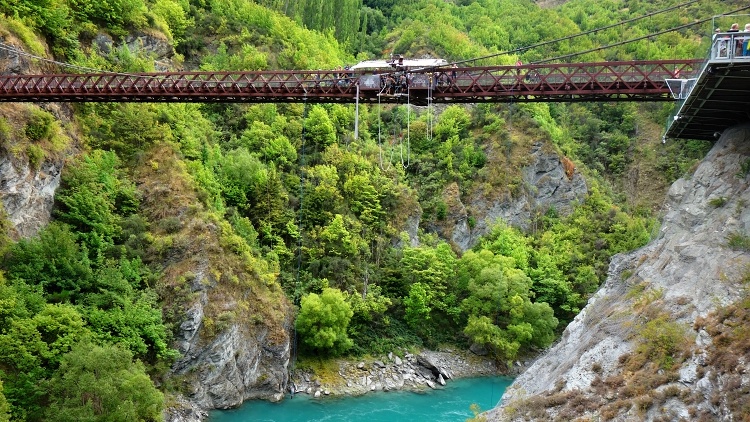 When we arrived at Queenstown in New Zealand, I knew that if I did not do it here, I would probably never do it.
Related Post: Top 9 Places to Visit on the South Island of New Zealand
But after my failure in Las Vegas I was afraid that I would give up again.
At first, we visited the Kawarau Bridge Bungy to see what it was like.
It's the world's first commercial bungee, with a height of 43 metres (141 feet).
The location was beautiful – a wooden bridge situated in the Kawarau gorge overlooked the river with its turquoise water.
But the scenery was the last thing on my mind!
People were queuing for the jump. There were so many of them – men, women, children, young, middle aged…
They all seemed to be just 'normal' people, no adrenaline junkies.
I was thinking that if they could do it, I could do it too.
I had done so many potentially dangerous activities before and I didn't want to feel like a coward.
The faces of people who were just about to jump said it all.
They were afraid, really afraid.
I realised that everyone felt fear (except for those adrenaline junkies).
And that's what it was all about – overcoming the fear and doing it despite of it.
We decided to jump the following day.
Unfortunately, we mentioned this to the Airbnb host with whom we stayed that night.
Related Post: Road Trips for First-Timers
Instead of the few words of encouragement that we were expecting, she said that bungee jumping was the worst experience of her life.
After standing on the jumping platform for ages, she only jumped (with closed eyes) because her friend threatened to push her.
This didn't help at all. It wasn't something I needed to hear.
As you can imagine I didn't get much sleep that night.
I went from "Yes, I can do it, I have done worse things." to "What is the point of doing it if I won't enjoy it, let's leave it till some other time. "
In the morning I still didn't know if I was going to do it or not.
We arrived at the Kawarau Bridge and watched people jumping for a while.
Petr asked if I was in so that he could buy the tickets.
I still didn't know what to do. I hate to admit that I was so scared.
We agreed that Petr would jump first and then I would decide if I wanted to do it or not. He managed a beautiful dive, it looked so easy. He told me that it wasn't too bad and I should do it too.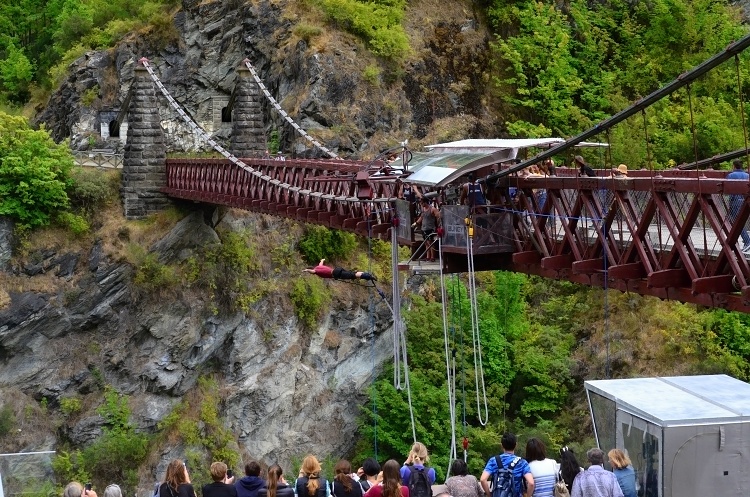 I still didn't know what to do.
Then, we saw a couple who were preparing for a tandem jump (the girl was so scared that she didn't do it in the end).
I was thinking that it should be easier to jump together with Petr because I could hold him.
If anything went wrong, he would know what to do (he always does!).
I knew if I didn't do it here and now, I would never do it because I would just find another excuse.
A tandem jump was available and we bought the tickets.
We got weighted, signed a waiver and put on our harnesses.
We were told which way we should jump and hold each other for a smooth experience.
The preparations took longer because they had to calculate the correct length of the ropes for two people jumping together, which wasn't that common.
Each of us was tied up to a separate rope and we were also holding each other behind our back.
Petr got ready first because he was taller.
Then, it was my turn.
The staff were amazing, they made fun and were talking to us all the time to make us feel more relaxed (if it was possible at all!).
I had a smile on my face but when I got to the jumping platform, the feeling of fear became paralysing.
I could barely move.
But I didn't question the safety of the ropes.
It was the feeling of having to jump into the empty space from such a height.
I was trying not to look down and was looking at the surroundings.
I was forcing myself to think about something else but it was hard.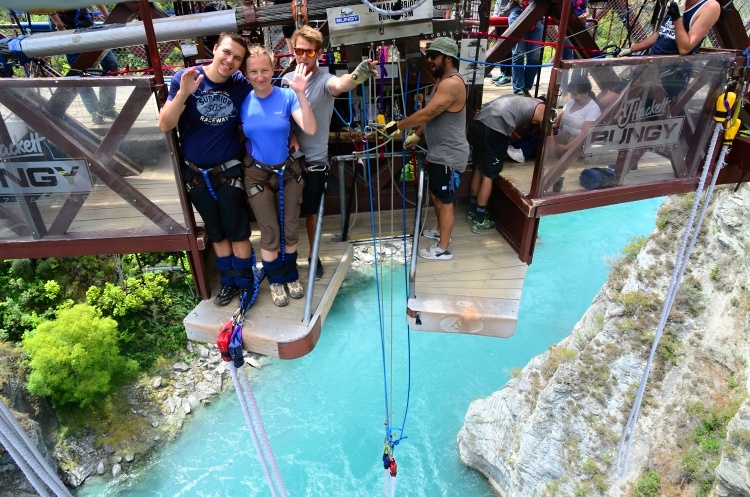 And there we were – standing on the jumping platform, tied to each other, smiling for the cameras but freaking out inside (at least I was!).
It felt like being in a movie – and then the guy said: "You are ready to go – three, two, one, JUMP!"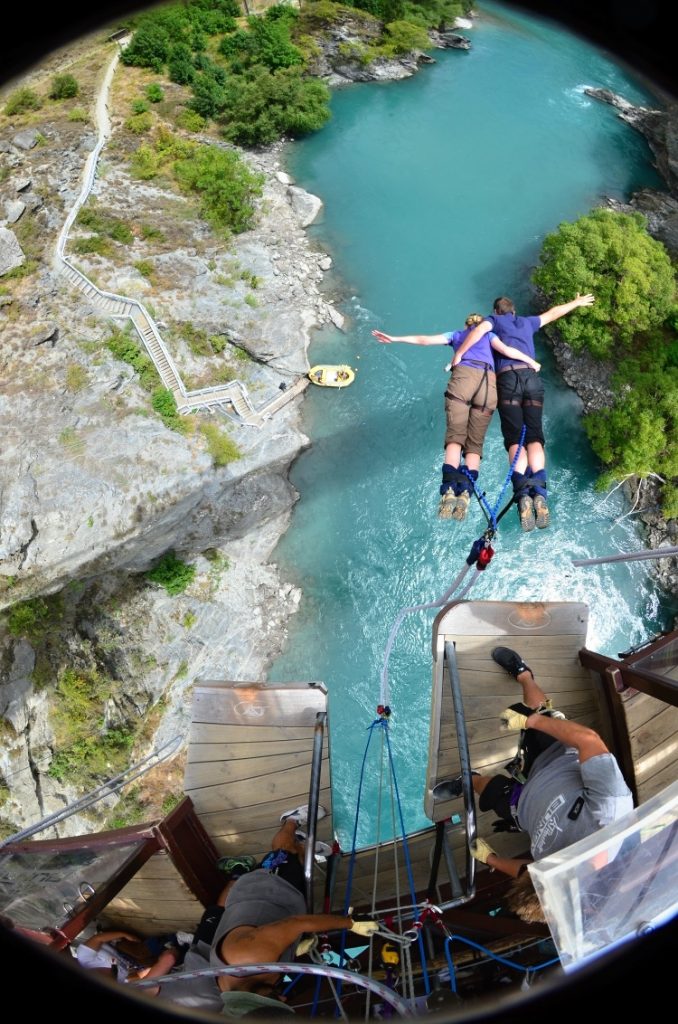 I let go and DID IT!
I managed to jump at exactly the same second as Petr.
It was a special moment that we shared together.
It was just a split of a second until the gravity grabbed us and we started falling.
Then I don't remember anything until we reached the water.
I don't know if I passed out or if it all just happened so quickly that my brain wasn't able to process it.
But I was probably fully conscious because Petr told me later that I was screaming the 'F' word all the way down!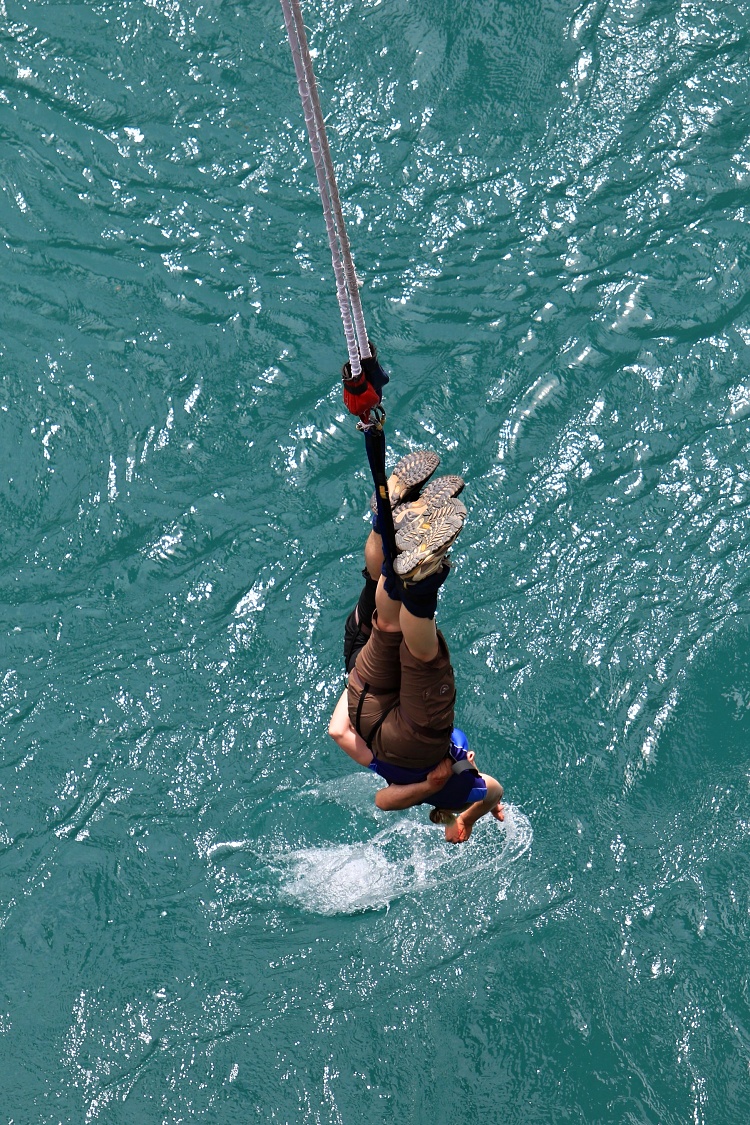 When we got down to the river and the ropes stretched, we were thrown up and down like two puppets.
The stress was gone and we were laughing and enjoying the moment.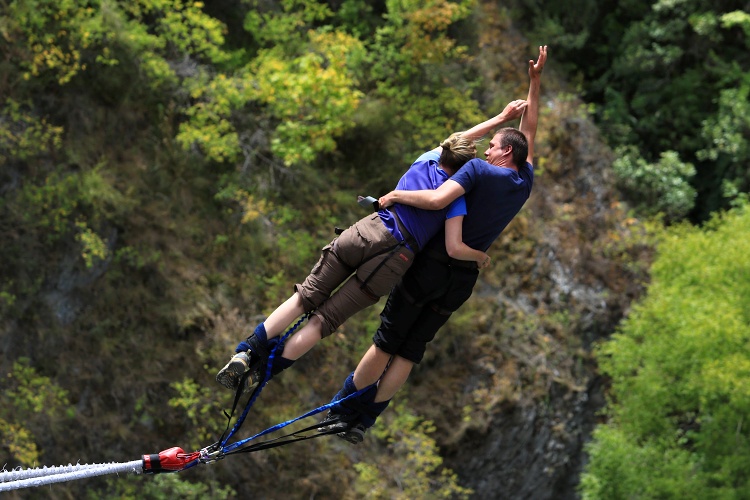 After we stopped moving, a boat came underneath us and picked us up.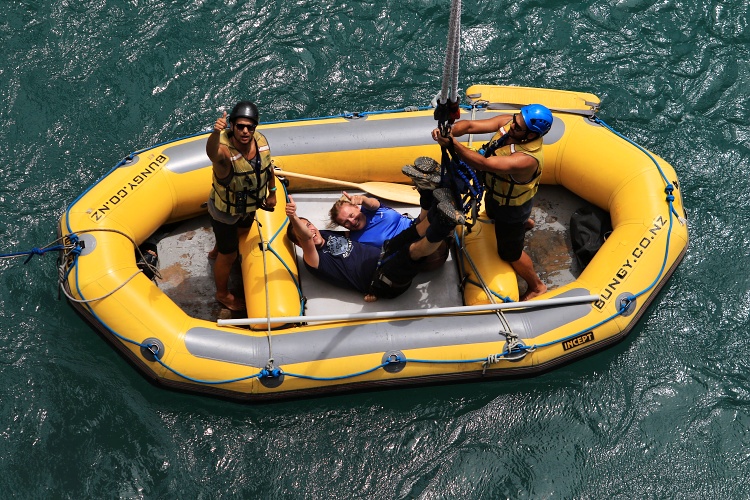 I was shaking but so happy that I had made it.
But deep inside I knew I needed to do it on my own.
I was a step closer to that now.
Petr hadn't had enough and wanted to conquer the nearby Nevis Bungy too, because we were leaving Queenstown the following day.
This is New Zealand's highest bungee (134 metres, 440 feet). People jump from a cable car cabin hanging between two mountains.
Related Post: First-Time Bungee Jumping – What It's Really Like (Petr's Story)
I wasn't ready to do that yet because I was still processing our tandem jump. Just standing in the unsteady cabin was scary.
Fair play to Petr that he managed to jump as effortlessly as only he can.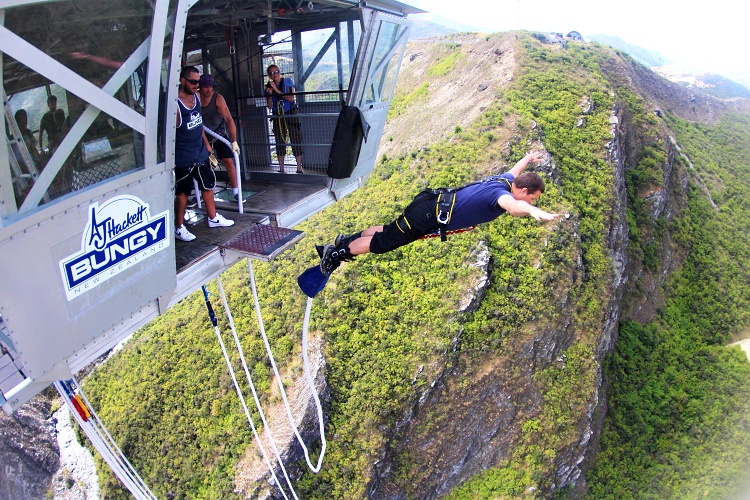 Auckland Bridge Bungy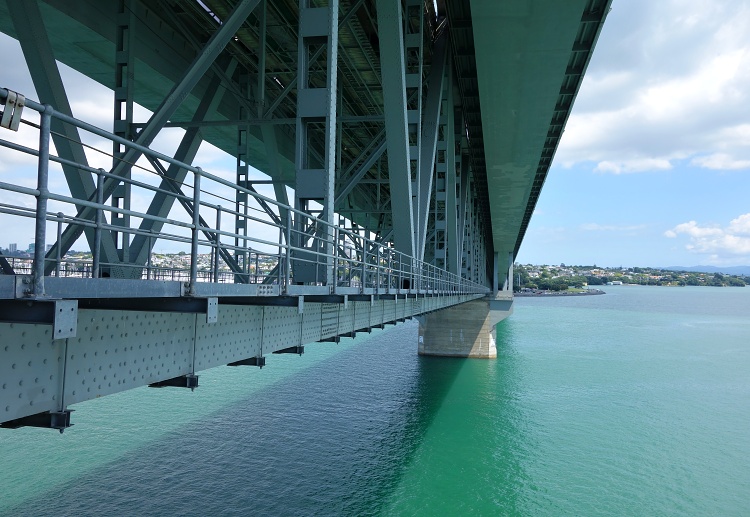 Two weeks later we arrived in Auckland.
Related Post: How to Travel the World When You Don't Have Money
I knew it was my last chance to jump on my own because we were leaving New Zealand soon.
The Auckland Bridge Bungy was perfect because the jump was above the sea, so I convinced myself that nothing could happen.
If anything went wrong, I would just end up in the water, right?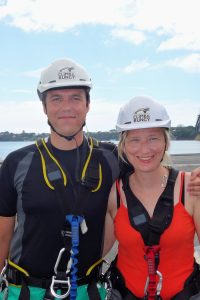 We booked our tickets online and got picked up by the minibus.
We put all the gear on, got a quick safety briefing and off we went.
We had to walk to the middle of the Auckland Bridge to get to the jump pod.
At the moment the bridge is not accessible for pedestrians.
The only way to get the stunning views of the Auckland's skyline is the Bridge Bungy or Walk.
The walk to the pod felt like never-ending.
I was trying to distract myself by looking around and thinking about anything else but the jump.
Petr was the most experienced jumper in the group so he went first.
He decided to jump backwards – how crazy is that?!
He requested the ropes to be adjusted to get as deep into the water as possible.
He dived up to his knees.
When he came back up, he was laughing as if it was all just a piece of cake.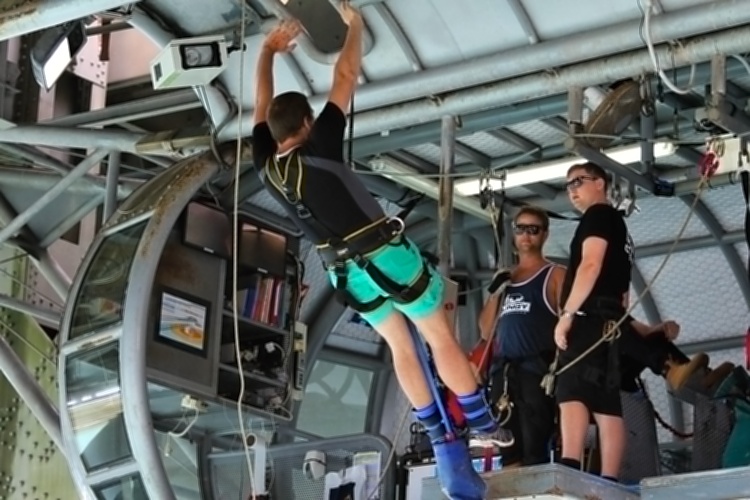 Two more people were jumping after him.
I could see that they were scared but they made it.
Then, it was my turn.
Again, the staff were amazing.
They were making jokes but nothing could help me at that stage.
I was trying to keep cool but I was so frightened that I could barely move.
I felt like a robot, I was just doing whatever I was told.
But I had made the decision to do it no matter what, so I kept going.
The guys got my rope and gear set so that I could touch the water as I requested.
They helped me to get to the jumping platform.
This was it.
Now or never.
I was standing on the platform, trying not to think about what I was going to do and admiring the bridge's impressive construction, just to get my mind distracted.
I was freaking out.
A few smiles for the camera and then they said: "Three, two, one, JUMP!"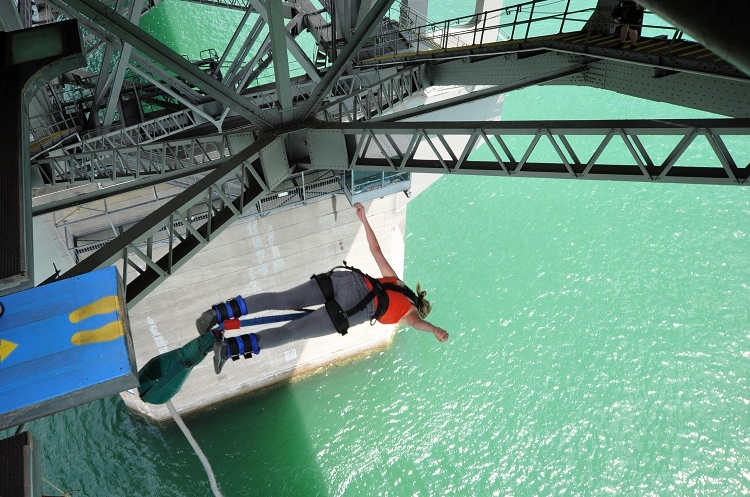 And I JUMPED!
I just leaned forward and the gravity did the work for me.
The horror of the last few seconds before the jump suddenly changed into pure joy when I started falling.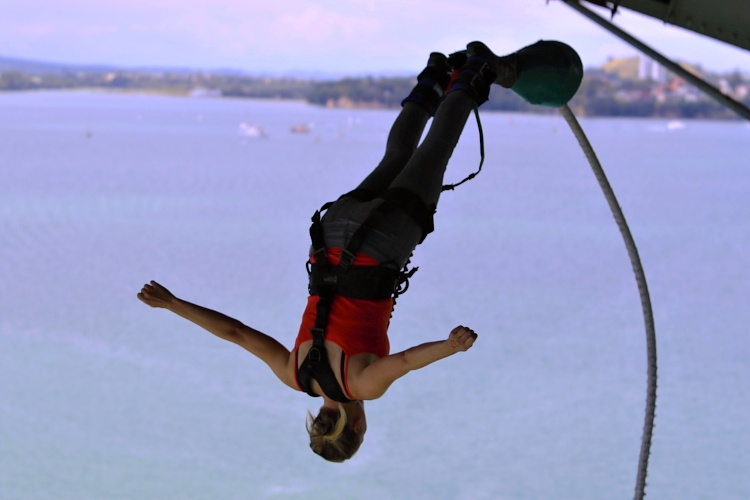 I was enjoying the moment and smiling until I hit the water.
It didn't hurt at all, I got into it smoothly.
I dived up to my waist, which I hadn't expected.
I had my mouth open and tasted the salty water.
In the end, this was the best part of the experience.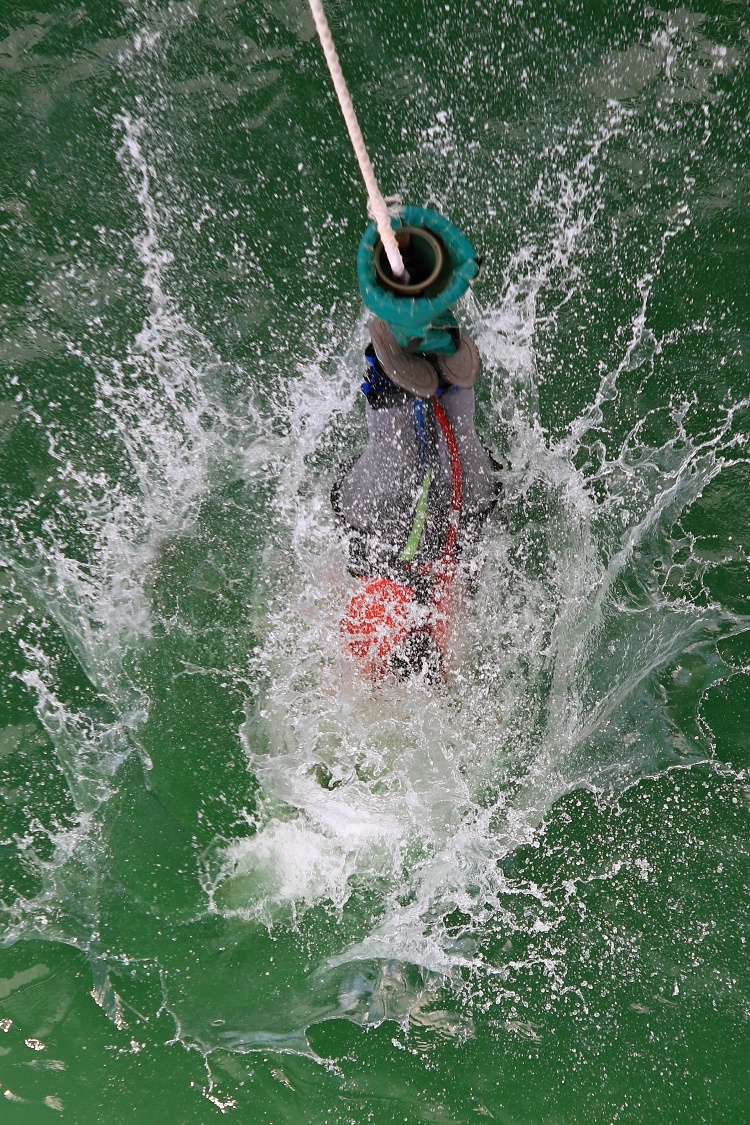 I could not believe that it was over and I MADE IT! I came back up shaking but super happy.
This time I really enjoyed the views on the way back.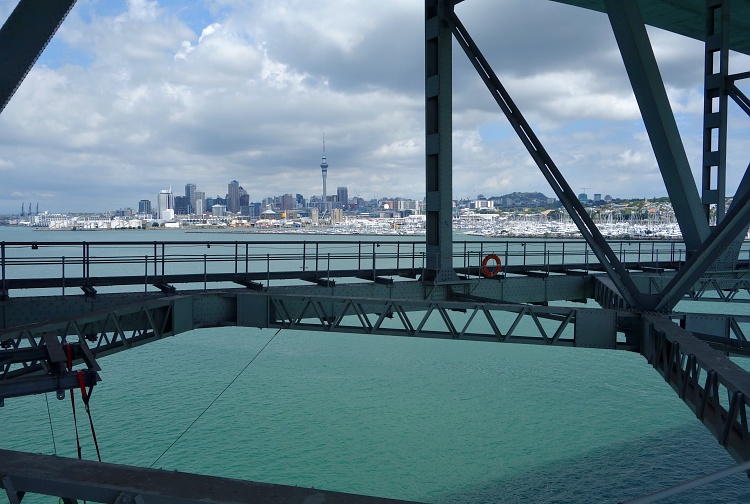 Final Thoughts
Bunge jumping was the hardest thing I have ever done (so far).
I had never felt so much fear before.
But at that moment, when I was jumping on my own, I realised one important thing that has had a profound effect on my life since.
I realised that I could really do ANYTHING I wanted.
It might be scary, hard or seem impossible.
But if I really want it, I can find the way by taking small steps forward.
And if I can do it, you can do it too (whatever it is).
PS: When we go back to Las Vegas one day, I'm going to jump off the Stratosphere Tower…. I know I can do it now…