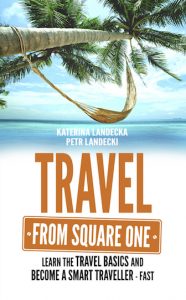 Our book TRAVEL FROM SQUARE ONE has been designed mainly for people who are new to travel but it might also by useful for experienced travellers. This guide book strives to set out in a simple way almost everything about organising travel – and even long-time travellers may forget (or have never thought of) some of the items included.
This is the book for you if:
You dream of travelling but you don't know where to start
You feel overwhelmed by all the travel-related information online
You don't feel confident about organising your trips
Your travel plans are limited by time or money (or both)
You would like to learn more about how the travel industry works
You will learn:
How to overcome some of the most common obstacles and barriers
How to plan and book your trip
How to find a good deal
What to consider to make your trip hassle-free
How to get ready
What to expect at the airport
How to become a smarter traveller
We are currently finalising the book, it is going to be published in 2019. If you would like to be updated, please sign up for our free newsletter by submitting your email address below.
Save
Save
Save